SPIN chats to Jamie Dornan & Emily Blunt
SPIN's Sarina Bellissimo caught up with Wild Mountain Thyme's Jamie Dornan and Emily Blunt for a chat this week.
The Irish broadcast exclusive interview aired on SPIN's The Bellissimo Files earlier today.
If you missed it, or you wanted to watch rather than listen, you've come to the right place.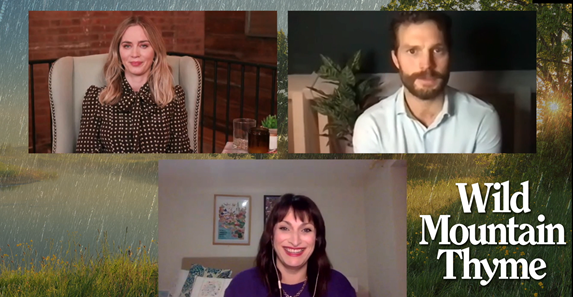 Sarina kicked off the chat by asking Jamie how it feels to have a movie out amid the pandemic.
He admitted, "It's strange. This is the third film I've had out during this 2020 year."
Jamie said the first movie was quite small, so it made sense that it would be released digitally.
While the second one did quite well at drive-in cinemas in America.
"The weirdest part about that is, you know, you have this amazing experience making these films."
"And then you don't get to all be together a year later..."
The script
Sarina asked Emily what it was about the script that left her, "bewitched."
"I think that sort of fairytale, otherworldly quality that it had."
"And you know, [Wild Mountain Thyme playwright John Patrick Shanley] is such an exquisite writer. It was just sort of like nothing else I had written."
She loved the humour, and how the film portrays the, "awkwardness of being human," which you don't see enough of.
"You're dealing with real things, real love, real mortality, real fear, real passion."
"I just loved it. Completely unique," she answered.
"Listen, we're all odd"
Sarina mentioned how odd and quirky Jamie's character Anthony is.
She then recalled how Jamie had previously said he could relate to his character, and she wanted to know how.
The 38-year-old replied, "Listen, we're all odd. All of us, right. Whether you want to believe it or not."
"You're a weirdo," Jamie told Sarina before adding, "Emily's a weirdo, we're all weirdos."
Sarina and Emily couldn't help but laugh at Jamie's comments as he continued, "Anthony is like the king of the weirdos!"
Emily chimed in, "Oh that's going to be your autobiography, I love that. The King of the Weirdos. That's it, you heard it here."
Does Emily have a house in West Cork?
Sarina went on to ask Emily about her love for Ireland, and mentioned that she had heard she has a house in West Cork.
Surprised, the actress laughed, "I wish I had a [house in West Cork]."
The SPIN presenter joked, "I'll send you the link! Apparently you have a house in West Cork!"
"Nope, I actually have barely spent that much time in Ireland."
Emily revealed, "I had been to Dublin on a Netball tour when I was like 14."
"So this was truly my first full emersion in how beautiful and extraordinary of a country it is."
Filming in Ireland
She recalled travelling around Ireland at the weekends.
"I'd drive down through Connemara which is just so striking and sort of Jurassic almost."
"It was so beautiful, so yeah I loved it. I wanna go back. I loved being there. Loved the people, the whole thing."
Sarina asked Jamie what it was like being back in Ireland with his American co-stars.
He admitted he wasn't very familiar with the area they were filming in, but he still really enjoyed it.
Jamie said in general, most Americans have a fascination with Ireland, so it was great for them to see the rural parts.
He thinks it was good that they weren't seeing some, "cosmopolitan Dublin/ Belfast/ Cork version of it."
"You're seeing the real Ireland, the real people. We just had a laugh!"
Watch Sarina's full interview with Jamie Dornan and Emily Blunt here:
Wild Mountain Thyme
Wild Mountain Thyme is based on John Patrick Shanley's play Outside Mullingar.
It follows the story of a headstrong farmer named Rosemary Muldoon who's madly in love with her neighbour Anthony Reilly.
However, Anthony seems to have inherited a family curse, and remains oblivious to his beautiful admirer.
The film will be made available to rent in Ireland from April 30th.