Emily Blunt & Jamie Dornan chat to SPIN
Sarina Bellissimo recently caught up with Emily Blunt and Jamie Dornan for a chat about their new movie Wild Mountain Thyme.
Here's a sneak peek at what to expect from the interview ahead of it's Irish broadcast exclusive on SPIN's The Bellissimo Files this Saturday from 10am.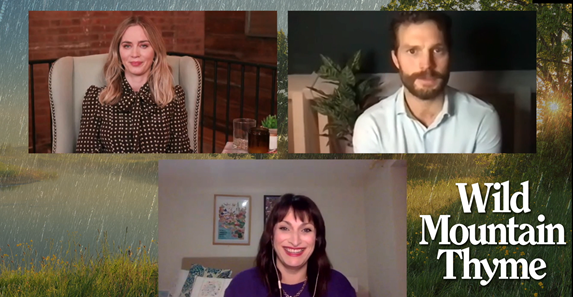 Jamie's character Anthony in Wild Mountain Thyme could definitely be described as a little, "odd."
Despite this, the Irish actor has said he can relate to Anthony, so Sarina asked him to elaborate.
The 38-year-old replied, "Listen, we're all odd. All of us, right. Whether you want to believe it or not."
Jamie calls Sarina and Emily, "weirdos"
"You're a weirdo," Jamie told Sarina before adding, "Emily's a weirdo, we're all weirdos."
Sarina and Emily couldn't help but laugh at Jamie's comments as he continued, "Anthony is like the king of the weirdos!"
Emily chimed in, "Oh that's going to be your autobiography, I love that. The King of the Weirdos. That's it, you heard it here."
Elsewhere in the interview, Jamie talked about what it was like being in Ireland with his American co-stars.
They also spoke about the friendly locals, and addressed rumours Emily has a house in West Cork.
The Irish broadcast exclusive interview will air on The Bellissimo Files on SPIN 1038 this Saturday from 10am.
Wild Mountain Thyme
Wild Mountain Thyme is based on John Patrick Shanley's play Outside Mullingar.
It follows the story of a headstrong farmer named Rosemary Muldoon who's madly in love with her neighbour Anthony Reilly.
However, Anthony seems to have inherited a family curse, and remains oblivious to his beautiful admirer.
The film will be made available to rent in Ireland from April 30th.