Dublin's Christmas lights
DublinTown switched on Dublin's Christmas lights at 5pm yesterday.
However, there is a new addition that people are less than impressed with.
If you missed our live surprise switch on of the #DublinTownChristmas Lights on Grafton Street this eve, here it is! 🎄😍 The lights across 30 city streets where we put up Christmas lights will come on now throughout this evening.
So come into #DublinTown and enjoy the city! pic.twitter.com/JmLDMOJ9Y0

— DublinTown (@DublinTown) November 12, 2019
At the top of Grafton Street, just outside the Stephen's Green Shopping Centre, there's a new light which reads 'Welcome To Grafton Quarter'.
People were quick to notice that this has replaced the more traditional 'Nollaig Shona Duit' decoration.
 

View this post on Instagram

 
Response
Disgruntled Twitter users took to the platform to share their feelings on Grafton Street's new name.
Saw this yesterday. WTF is Grafton Quarter? Why isn't the main welcome to Grafton St in Irish? Why is an Irish version down a side street? Who thought it was a good idea to make a historic street this naff & colonially insecure? (Like BT doing last yrs Selfridges Xmas window) pic.twitter.com/SPfa1F43fm

— Dr Robert Bohan (@RobertBohan) November 13, 2019
Renaming Grafton Street to Grafton Quarter just reminds me that you can't polish a shite, but you can try roll it in glitter #GraftonStreet #GraftonQuarter https://t.co/9WbA96QbCZ

— Darren (ಠ_ಠ) (@anrudisannamh) November 13, 2019
"The Grafton Quarter? Why, I know it well. You take a left at the Notions District and keep going straight. But make sure not to disappear Up Your Own Hole. That's Downtown" pic.twitter.com/V2bMuonmfC

— Mallow News (@MallowNews) November 13, 2019
Grafton Street now being called the Grafton Quarter. Notions level 100. pic.twitter.com/bhbPfBwpvl

— Rachael Nic An Choiligh (@Rach_Cox_) November 12, 2019
Some people took to Instagram to have their say.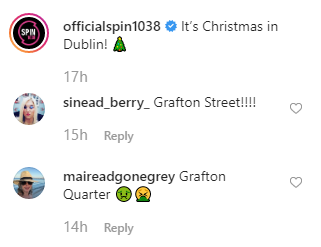 Richard Guiney of DublinTown said of the sign and name change, 'The businesses on Grafton Street have been referring to the area as the Grafton Quarter for the refurbishment of the street that's been going on over the last number of years.'
'I think there's a move towards that as a district brand.'
It's official, #DublinTownChristmas is here and we've brand new lights to welcome you to #GraftonQuarter! 💚🎄🎅🎊 #Christmas pic.twitter.com/8cbefzPjFC

— The Grafton Quarter (@GraftonQuarter) November 12, 2019
A Twitter account using the handle @GraftonQuarter has been active since May 2014.