Amy Hart begs her followers to be kind
Former Love Island star Amy Hart is asking people to think before posting nasty comments about the new islanders online.
The first 12 contestants for the winter series were announced today.
Amy starred on last year's season and had viewers in floods when she walked out of the villa of her own accord.
It's been nearly six months since the summer series and it seems Amy has learned a lot from the experience.
'We all get invested, I've been guilty in the past, and form opinions of people we don't actually know.'
'We see 45 minutes of a story about people living in a villa.'
'Please before you jump on a bandwagon and tweet something nasty about one of the islanders, remember, they won't see it.'
'Their mum, dad, nan, grandad, brothers, sisters and friends will.'
 

View this post on Instagram

 
While the islanders are in the villa, their families are managing their social media accounts at home.
'Think how you'd feel if you read something about someone in your life.'
'Before you send a death threat in to someone's DMs, think how their best friend, sibling or whoever is running their account will feel reading that.'
 

View this post on Instagram

 
Amy goes on to encourage the new islanders' families to reach out to her if they need help.
'To all the friends and family, if you need anything, and i mean anything, please contact me.'
'My parents are more than happy to speak to any families of islanders.'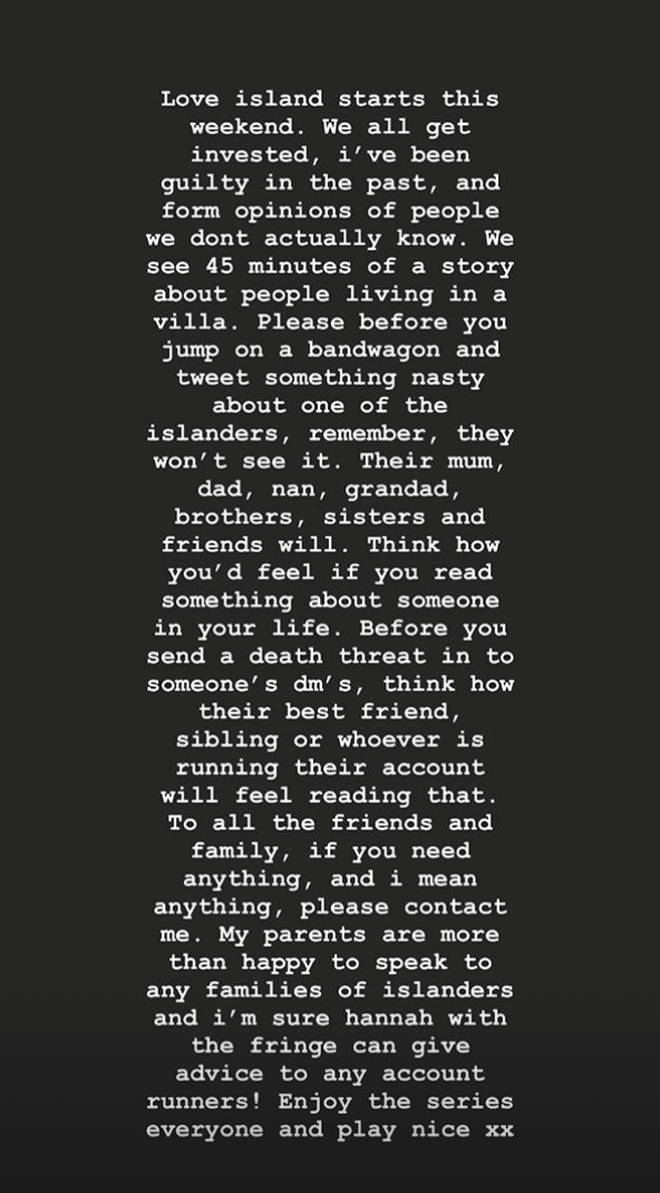 Instagram Stories @amyhartxo
Amy isn't the only one speaking out about this, Molly-Mae's sister is also sharing her experience with online trolls.
Rather than beg her followers to be kinder, she gives advice to the families of the new contestants.
Read more here.
 

View this post on Instagram

 
The new series begins this Sunday night and we are so excited!
Learn more about the first 12 contestants here.