Amy Hart is having none of it
Love Island's Amy Hart wants people to recognise that reality stars can be both beautiful and smart.
In an Instagram Stories rant, she vented her frustration over the notion that Love Islanders are unintelligent.
 

View this post on Instagram

 
Her social media rant was sparked by a post shared by her former Love Island co-star, and pharmacist, Anna Vakili.
In an Instagram grid post, Anna wrote, 'Stigma and stereotype'
'Two concepts that's follow women around from the moment they enter the social world.'
 

View this post on Instagram

 
'Boring, frigid, slu**y, dumb. I mean, the list of words used to label women is endless,' Anna wrote.
'It's unfair, that women feel the need and pressure to conform to one stereotype and please a certain group of people, and in doing so must sacrifice a whole other side of themselves and who they are in the process.'
 

View this post on Instagram

 
'Now I can finally say I am BOTH'
She admitted, 'I have for so long been stuck in a conflicting crisis of which one am I? Who am I? Until now.'
'Now I can finally say I am BOTH. And screw anyone who can't accept that.'
'I won't forget this great scene in Sex & The City, when Miranda sarcastically dismissed a guy she met at the bar who said that women are usually smart OR beautiful and a man can not wish for both.'
 

View this post on Instagram

 
Anna continued, 'The stigma and stereotype attached to a woman who finds self empowerment and confidence in being sexy and therefore feeling sexy, is that she is most likely brain dead.'
'This is false and needs to change. A woman can be anything she wants to be and express it in anyway she finds suitable for her.'
'And intelligence, education, smart sharp wit and all other intellectual qualities have nothing to do with what a women wears, how she looks and chooses to portray herself.'
 

View this post on Instagram

 
Amy's post
Amy shared Anna's post on Instagram Stories and said, 'this is so on the money.'
The social media influencer said she spent eight years, 'exceeding people's expectations,' because of her career path.
Before her appearance on Love Island, Amy was, 'just an air hostess.'
 

View this post on Instagram

 
'I used to think it was my superpower to prove people wrong but the other day this happened and it really riled me up.'
Amy shared a screenshot of a tweet she wrote about the UK government's furlough scheme.
She became irritated by a Twitter user, who was surprised that a Love Island contestant had such a good understanding of the scheme.
If fur@ExcludedUK @RishiSunak @BorisJohnson

— Amy Hart (@amyhart1707) February 19, 2021
Amy wrote, 'Why are people so shocked?'
'I don't understand why [being on Love Island] immediately writes me off from having intelligence or empathy!'
The social media star pointed out that many of the people in her year on Love Island were incredibly intelligent.
 

View this post on Instagram

 
She said, 'In my year alone we had a pharmacist, scientist, fire fighter, loads of degrees , those of us who have a real interest in social justice, some of the most business-minded people I know, and generally intelligent people.'
'Why are people so negative?' Amy asked.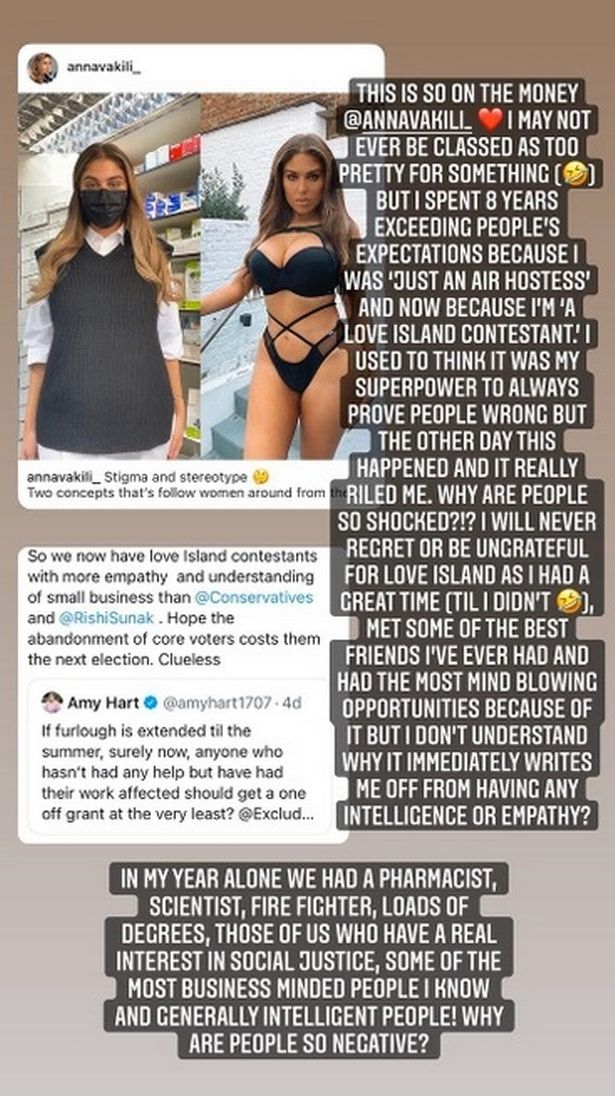 Nothing proves Amy's point more than the fact that Love Island's Dr. Alex George has been appointed the UK Ambassador for Mental Health.
Read more here.