Zoe Hague warns the families of future Love Island stars
Molly-Mae Hague's sister Zoe issues a warning on Instagram to the families of the upcoming Love Island contestants.
The islanders' loved ones are tasked with managing their social media accounts while they're in the villa.
And Zoe has some advice to share after her sister Molly-Mae was the target of online abuse during the 2019 series.
 

View this post on Instagram

 
Zoe shares a scenic photo of a river surrounded by what looks like a forest.
She writes over the post, 'Advice to family/friends/people running accounts of the new islanders this year.'
'Nothing you do will make a difference to the things you will read.'
 

View this post on Instagram

 
What not to do
Zoe tells families that the worst thing to do is, 'search your loved ones names on twitter, join a love island 'banter' group on Facebook or search for articles about them.'
'You know the person better than anyone, people will have opinions, say vile things, the show will edit parts to make them come across in a certain way.'
 

View this post on Instagram

 
Zoe admits, 'It'll be extremely hard having no contact, however what seems like the end of the world then will be forgotten about as soon as they step out of the villa.'
'Stay strong and support them through every episode, it'll be tough but worth it in the end.'
From her experience, Zoe thinks the best thing you can do is, 'deactivate twitter!!!'
Referring to the upcoming winter series which begins this weekend, she writes, '1 week till the show starts....'
'Anyone running an account of an islander this year who is struggling, please feel free to message me.'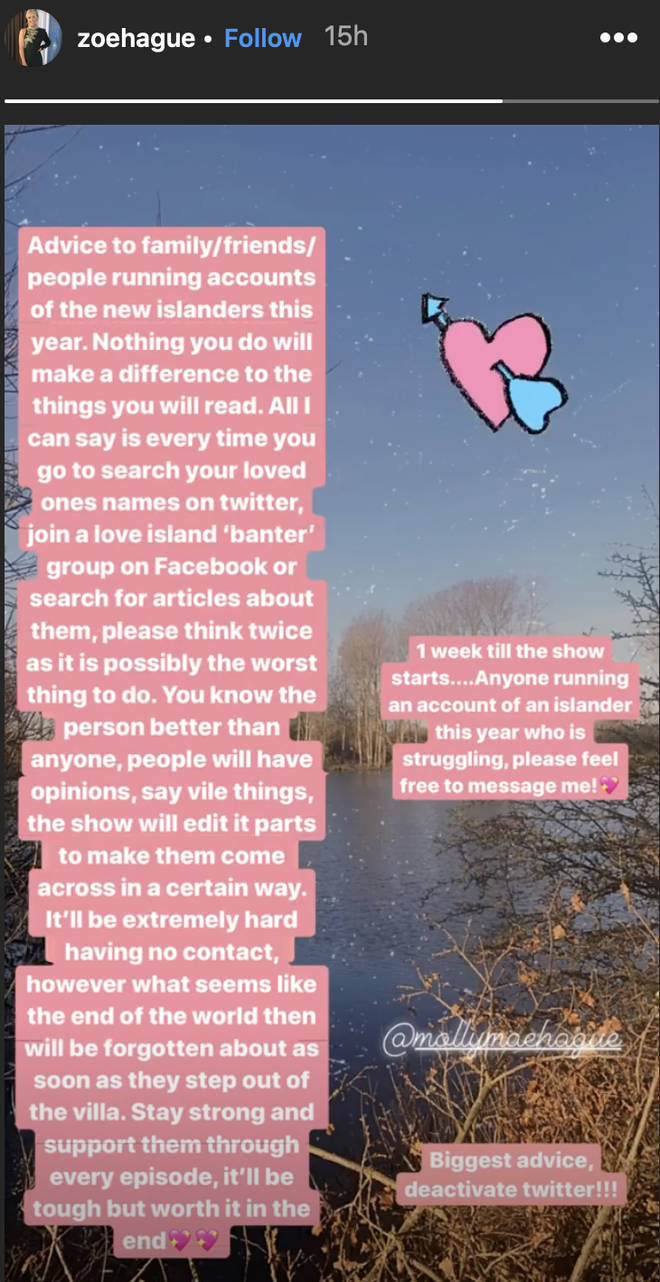 Instagram Stories @zoehague 
Molly-Mae's Love Island journey
Despite the constant online trolling, Molly-Mae actually made it to the final with boyfriend Tommy Fury.
They lost out on the winning title to Greg O'Shea and Amber Gill - they broke up shortly after leaving the villa.
 

View this post on Instagram

 
Many believed Molly was only taking part on the show for the cash prize at the end.
She was branded 'Money-Mae' on social media and understandably, it really hurt her feelings.
The former islander tells OK!, 'Some of the stuff that's been said about me is pretty vile.'
'I knew I was going to get my fair share of hate but I didn't know it would be to this extent.'
'To be called fake and all these horrible names like 'Money-Mae' when I haven't actually done anything wrong was a shock.'
'There are death threats, which really isn't nice.'
 

View this post on Instagram

 
The winter series premieres this weekend and we cannot contain our excitement.
Read more here.