The National Ambulance Service has presented a 16 year old Dubliner with a Bravery Award, after helping save his friend's life.
Noah Winders from Castleknock sprang into action after Charlie Rutter collapsed while playing basketball.
Noah, who is fully CPR trained, carried out chest compressions on Charlie while he waited for expert help from the emergency services.
Charlie has recovered from the incident and now has an internal defibrillator fitted.
Noah built up his CPR experience while training to be a lifeguard.
At today's event Noah, now in Transition Year, was applauded by his classmates at Castleknock College when he was presented with his Bravery Award.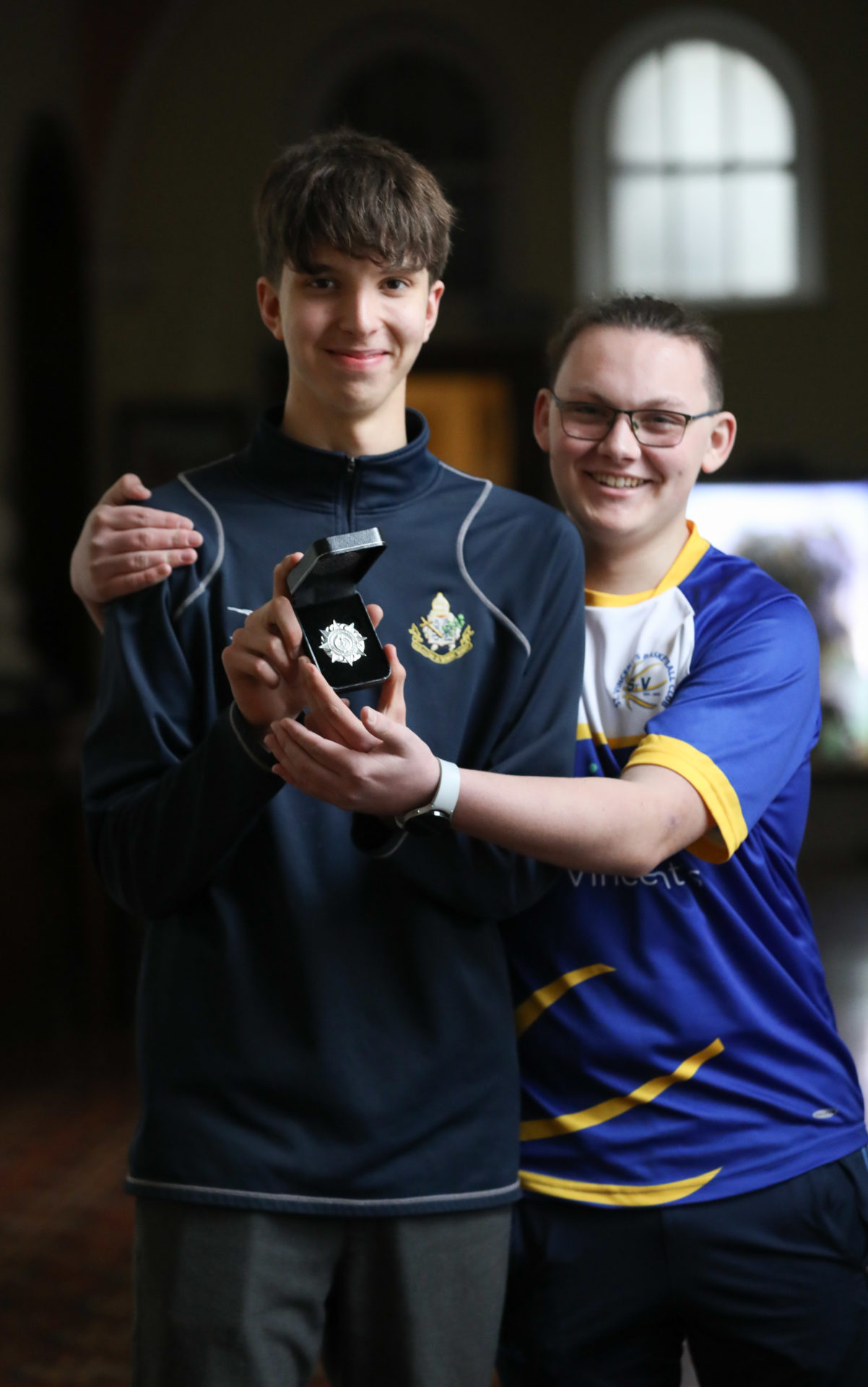 Basketball
Charlie's mother Fionnuala explains she dropped him off to St Vincent's club in Glasnevin where he was due to play basketball last April.
He'd begun the warm up, but fell over.
Fionnuala says it was initially thought he'd tripped, so others helped him up but he fell over again.
"Charlie's coach Dave Winders (Noah's dad) started CPR."
"Then Noah, who is fully trained in CPR took over and continued until a Dublin Fire Brigade crew arrived and treated Charlie with an Automated External Defibrillator."
The HSE website defines "defibrillation" as
The delivery of an electric shock to a person's chest to help restore the normal function of the heart.
In order to be effective and safe, training in the use of a defibrillator is essential.
Great to see Lehinch come on board the Community First Responder (CFR) initiative. If you're interested in becoming a CFR then visit here for more info: https://t.co/SNZ2X6y36x https://t.co/BNiDefobAu

— National Ambulance Service 🇮🇪🚑 (@AmbulanceNAS) March 15, 2023
CPR Training
Amanda Ross, Community Engagement Officer, National Ambulance Service, says it's important to recognise teenagers can "very effectively administer CPR, especially when they have received the appropriate training."
Amanda continued to encourage any young person who is interested to take up a training opportunity.
The NAS Community Engagement Team delivers CPR training in schools, as well as supporting the Irish Heart Foundation's CPR for Schools initiative around the country. Training is also available from voluntary Community First Responder groups.
See www.becomeacfr.ie for more information.
The Irish Heart Foundation regularly runs CPR courses, they can be found at this link.
Water Safety Ireland also offers training to members, this link is best for that.