Up to 150 new firefighters in Dublin are needed in the next 18 months, according to SIPTU.
It comes after the service has been dealing with staff shortages over Christmas as a result of COVID-19.
SIPTU will meet with Dublin Fire Brigade management next week to discuss long-running issues around staffing levels which date back to before the pandemic.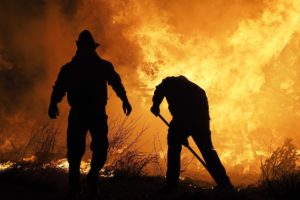 Not Enough Staff
Industrial relations organiser with SIPTU, Geoff McEvoy, says the number of staff employed by Dublin Fire Brigade just isn't enough:
"We reckon there's a need for another 100 to 150 firefighters to be recruited into the service in the next year to 18 months."
It's after the Chief Fire Officer Dennis Keeley appeared before Dublin City Council last night, to highlight the shortages it faced over Christmas.
Over a fifth of their workforce was unavailable on New Years Eve - which is around 200 people.
Training for staff has been curtailed to allow all available staff to work in the operations of the service.
DFB staffing crisis deepens. 12 appliances off the road on NYE. @DublinSinnFein table emergency motion at tonight's @DubCityCouncil
meeting @SIPTU @DubFireBrigade https://t.co/P1Wd1Mpm9x pic.twitter.com/UPMxxmukSa

— Cllr. Daithí Doolan (@DaithiDoolan) January 10, 2022
New Recruits
Dennis Keeley says they are continuing to recruit:
"We have a new class starting February 7th, we look forward to that."
"Its a large class of 46 which will obviously once they've completed their training will help us."
However SIPTU claims when retirements are taken into account, staffing levels won't be boosted that much at all.
Something Councillor Daithi Doolan agrees with:
"The cause of the staffing crisis is under resourcing and the fact there's not enough staff in place."
As of yesterday, 107 people are unavailable for work, as well as two appliances.