The 2020 John Lewis Christmas ad
John Lewis have finally released their 2020 Christmas ad.
This year, the soundtrack is an original song called A Little Love by the Brit Award winning singer/ songwriter Celeste.
 

View this post on Instagram

 
The ad is called Give A Little Love and it celebrates kindness, whether large or small.
It shows how each and every act of love has a positive impact on the world around us.
The video opens with a young boy looking up at his football, stuck on a tree branch.
A young girl joins his side and uses her umbrella to pull the ball out of the tree.
As the ball falls to the ground, they're transformed into animated characters.
While walking, the boy notices a melting snowman.
The snowman
The snowman looks up at the boy with sadness in his eyes.
So the young man makes a heart-shaped balloon out of snow.
He hands it to the snowman, who floats into the sky and escapes the puddle below him.
The snowman lands next to a couple whose car has just broken down.
So he takes the snow off his body and makes them a heart-shaped wheel.
The couple jump in their car and drive off with smiles on their faces.
The lonely neighbour
On their way, they drop off a bag of groceries at an older man's front door.
While unpacking the items, he notices his neighbour next door looks very lonely.
So he grabs a Christmas cracker and passes it through the window.
His neighbour pulls it from one side, while he pulls the other side.
A heart-shaped explosion sends confetti flying in the air.
The neighbour catches a joke that flew from the cracker and it puts a smile on his face.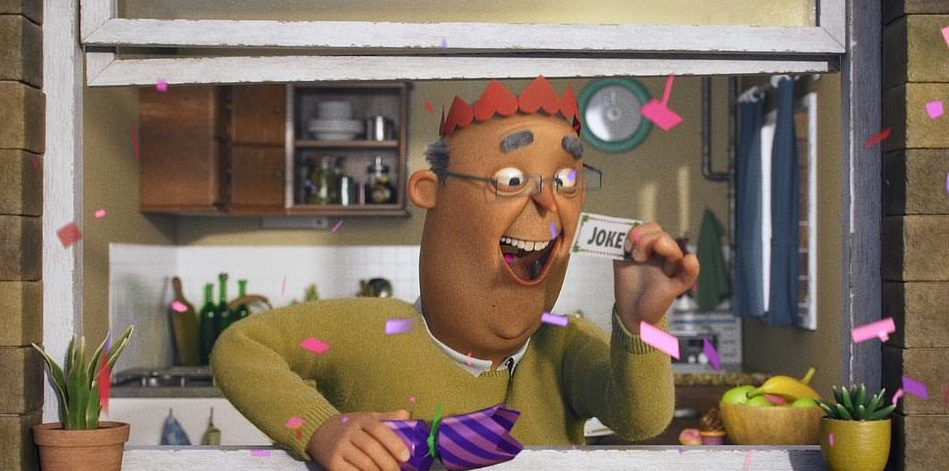 The young boy
The man is still laughing the next as he returns to work as a hairdresser.
He ends up giving a red-headed boy a heart-shaped haircut.
The boys transforms into real boy.
At home, the young man opens a John Lewis Christmas decoration.
He hands it to a younger family member who, with the help of an adult, places it on top of the tree.
Watch the full advert below:
John Lewis aims to raise £4m for their charities Home-Start and FareShare, which works with parents who need support.
They're hoping to raise a further £1m for local charities.
In the YouTube description they say, 'The charities will use these donations to provide food, comfort, emotional support and advice to families who need support this Christmas.'
Find out more about their charity partners here.
Meanwhile, check out the emotional 2020 SuperValu Christmas ad here.