Love Island Day 15
The Love Island villa is still shocked by last night's surprise double dumping.
But the show must go on!
It's a first kiss for Anna and Jordan, a first date for Amber and Michael and trouble in paradise for Yewande and Danny.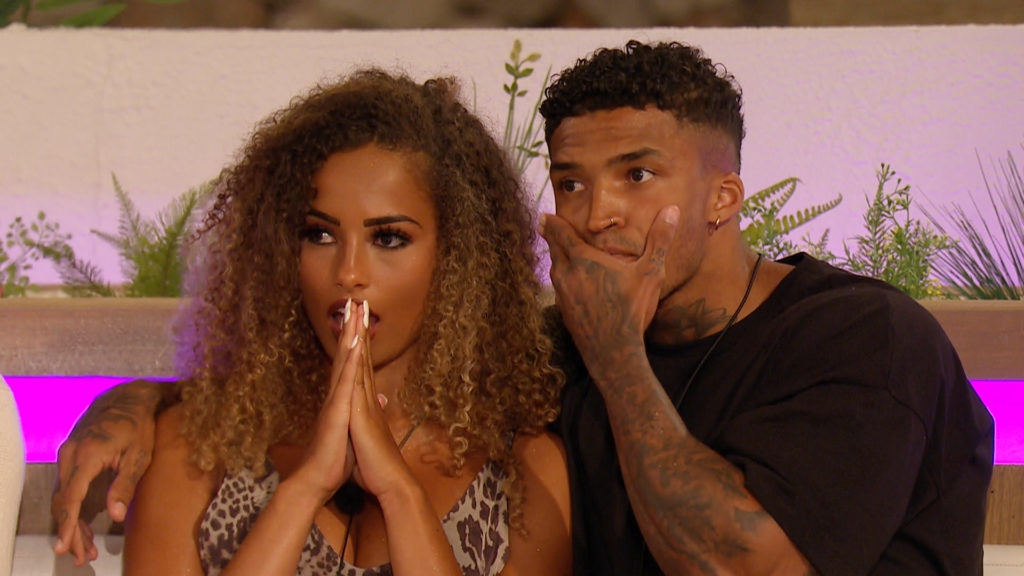 Lucie reacts to Joe's dumping
Last night, Joe and Elma were dumped from the Island leaving Lucie and Anton single.
Lucie is frustrated that the other islanders thought and Joe were one of the least compatible couples.
On the day beds Amy says to Lucie, "We've all had our differences but situations like this make you realise that we all need to stick together. We're going to support you."
Lucie says, "But I feel like people have gone off friendship, not compatibility."
Molly-Mae asks, "Do you think that you and Joe would work on the outside?"
Lucie says, "Yeah."
Molly-Mae says, "We're all going to be there for you. You're not alone. You're going to be fine."
"You've got all these girls here and they do have your best interests at heart."
Lucie thanks the girls.
The next day, the girls are keen to check in on Lucie to see how she is doing.
Lucie is still confused as to what Joe would have done if he was in her situation.
Molly-Mae says, "Enjoy the experience! We'll support you whatever you decide."
Lucie reflects in the Beach Hut, she says "I am finding it hard this morning. The girls have been really lovely to me, they've been really nice. I don't normally take girls advice but I'm actually going to give it a chance."
Amber & Michael's first date
Amber gets a text: 'Amber and Michael. The time has come for you to head out on your first date. #meltme #finally.'
Michael and Amber leave the villa and arrive at the location of their date.
As the pair take a seat Michael says, "I'm quite nervous. It's our first date. I've been looking forward to it."
Amber says, "You're making me feel like I'm in an interview!"
She then asks,"What do you think your family would think of me?"
Michael says "My family would love you. You'd fit right in. It would be like you've always been there."
Amber says of her family, "They would love you. You're calm. I feel like you calm me down a bit."
Amber continues, "I do really like you. It's working out really nicely now. If we stay the way that we are, I can see it lasting the duration and I can't see why it wouldn't work on the outside as well."
"I just feel like we're compatible on another level."
Michael says, "It's not that far from Liverpool to Newcastle anyway."
Amber replies,  "You'd have to move to Newcastle."
Michael says, "From getting to know you, I've just realised that me and you are so alike. It just felt so natural."
Amber says, "I've turned cuddly!"
Michael says, "I've noticed it over the last couple of days! You've been getting closer to me and wanting to be around me."
Amber responds, "I feel shy that's how I know I really like you."
Michael says "I find myself wanting to be next to you, just so you know I'm there."
Amber finishes, "I love spending all my time with you in the villa."
A kiss for Anna & Jordan
Anna and Jordan are growing closer by the day.
As the islanders play a  game Molly-Mae asks Jordan, "If someone walked in tonight, would you be willing to get to know them?"
Jordan says, "No."
Anna soon joins the game and Molly-Mae asks her, "If Jordan stuck it on you tonight, would you kiss him back?"
Anna says, "Yes."
Later that evening, Jordan asks Anna for a chat on the swing seat.
Anna says,"You're so confident. Do you think I'm quite confident?"
Jordan replies, "I think you're sure of yourself. You're a confident girl, yeah."
Jordan then says, "Do you think I can handle you?"
Anna says, "So far, yes."
It isn't long before Anna and Jordan share their first kiss.
She later says to the girls, "Oh my God, he is such a good kisser."
Tom & Maura
Tom asks Maura for a chat and wastes no time in laying it on factor fifty thick.
He says, "You look really nice tonight."
Maura replies, "Thank you. So do you."
The boys tease Tom as he is speaking to Maura.
Tom says, "They're not sure I can handle you. I assure you I could.
However, Maura seems to be having doubts about her connection with Tom.
In the Beach Hut she says, "I can't describe it. There is something missing with Tom. Maybe he does find me intimidating?"
Trouble for Danny & Yewande
Danny feels as if him and Yewande are no longer on the right track.
Speaking to Anton he says, "I would say she is genuinely not feeling it."
Aware of Danny's feelings, Curtis asks Yewande, "How's it going [with Danny]?"
Yewande says, "It's going good."
Curtis says, "He said he didn't know if you liked him."
Yewande says "That is the only frustrating thing with Danny. I just feel like he always needs reassurance."
"I'm not going to tell you every day that I really like you. It's never going to happen."
Danny reflects in the Beach Hut he says, "It's not easy for me. I've really made my intentions clear but I am a bit dejected tonight."
Love Island returns to Virgin Media Two tonight from 9pm.