Halsey speaks up
Halsey is sick of people, 'passing judgement,' and making assumptions about her pregnancy.
The singer took to Instagram, insisting it was, '100% planned.'
 

View this post on Instagram

 
In a short statement on Stories, she asked, 'why is it ok to speculate and pass judgement about fertility and conception?'
'My pregnancy was 100% planned, and I tried very hard for this bb,' she added.
Halsey concluded, 'But I would be just as happy even if it were another way.'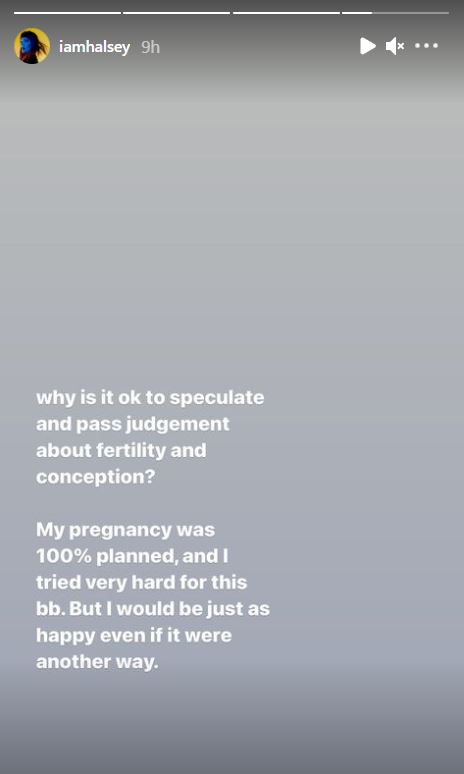 The pregnancy announcement
Halsey and her partner Alev Aydin announced their pregnancy news in January.
At the time, it hadn't even been confirmed that they were dating.
So it was a bit of a surprise for her fanbase.
 

View this post on Instagram

 
However, the couple seem crazy about each other, and are so excited to be welcoming a child together.
Under her pregnancy announcement, he commented, 'Heart so full, I love you, sweetness.'
She replied, 'I love you!!!!!! And I love this mini human already.'
 

View this post on Instagram

 
Halsey on having children
Halsey has always been very vocal about her desire to have children.
In 2016, she revealed she suffered a miscarriage while on tour the year prior.
She recalled the horrific experience in an interview with Rolling Stone Magazine at the time.
 

View this post on Instagram

 
The singer admitted, 'I want to be a mom more than I want to be a pop star.'
'More than I want to be anything in the world,' she added.
In 2018, Halsey shared that she was freezing her eggs due to her battle with endometriosis.
The 26-year-old has been keeping her followers updated on her pregnancy journey.
Last month, she wrote on Instagram, 'I've been thinking lots about my body. it's strange to watch yourself change so quickly.'
'I thought pregnancy would give me very strong, binary feelings about "womanhood" but truly it has leveled my perception of gender entirely.'
 

View this post on Instagram

 
She continued, 'My sensitivity to my body has made me hyper aware of my humanness and that's all.'
'Doing a remarkable thing. And it's grand. I hope the feeling lasts.'
'I cook a lot, sleep even more, and read lotssss of books.'
 

View this post on Instagram

 
Halsey concluded, 'I miss my family. And you guys too! bye for now.'