How Amber Gill feels about Greg O'Shea's Twitter response
Love Island's Amber Gill called Greg O'Shea, 'pathetic,' on TikTok this week.
It's after he recently responded to her tweet celebrating one year since winning the reality dating show.
Amber and Greg won the 2019 series of Love Island together, as a couple.
However, shortly after leaving the villa, they called it quits and it seems their friendship hasn't been the same since.
 

View this post on Instagram

 
On the year anniversary of their win, she tweeted, 'can you believe its been one whole year since I won Love Island.'
And Greg very simply responded, 'Congrats.'
The comments section is pretty divided by fans arguing whether or not Amber would have have won without Greg.
Congrats.

— Greg O'Shea (@GOSofficialpage) July 30, 2020
While she didn't directly respond to her ex, she did tweet on the topic of throwing shade two days later.
She said, 'when people are unhappy within themselves they interpret everything as bitter and shade throwing, let them misinterpret they cannot comprehend someone being unproblematic and unbothered.'
'We don't need any more negativity in 2020 let them be on their bulls**t'
whe

— Ambs (@AmberRoseGill) July 31, 2020
When a Twitter user responded, 'Amber , your well able to throw shade yourself!!'
Amber replied, 'MISINTERPREATATION #1 Shade throwing is my speciality being able to differentiate shade throwing from a harmless comment is what I'm talking about not everything is shade'
— Ambs (@AmberRoseGill) July 31, 2020
Amber hits back on TikTok
Amber went on to call Greg's response, 'pathetic,' in the comments of her latest TikTok.
It's after a TikTok user commented, 'negl tho but it was ac gas when Greg replied to ur tweet ahahaha yup gregor'
Amber simply replied, 'Is gas pathetic? Cos yeah same xx'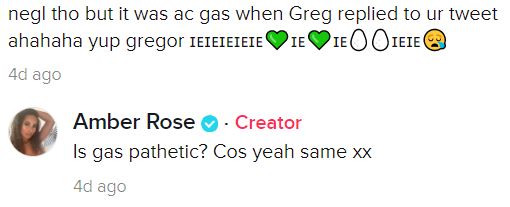 Greg hasn't said anything since his tweet.