Dublin jumps from eighth to fifth place in one year
Dublin is now among the top five most expensive European cities to rent in.
New research from ECA International places Dublin higher on the list than Paris, Copenhagen and Stockholm.
This is the highest position the Irish capital has ever held.
The average monthly rent for an unfurnished three-bedroom apartment is now €3,406.
Why is rent in Dublin rising?
According to Alex Smith, Accommodation Services Manager at ECA International, two factors have played a part in the rise of Dublin's rental prices.
A property bubble was exposed during the global financial crisis and, "rents have increased significantly with each subsequent year of recovery."
More people are relocating to Ireland from abroad thanks to, "Ireland's low corporate tax rate."
London remains the most expensive city in Europe for rent.
Moscow was number two with Zurich in third and Geneva fourth.
Paris is now sixth on the list while Luxembourg, Amsterdam and Copenhagen all make the top ten.
According to ECA International rental prices have risen across Europe due to the strength of the Euro.
While they're nowhere near as expensive as Dublin, Madrid, Rome and Barcelona all experienced a rise in rent prices.
Worldwide
Hong Kong is the most expensive city in the world for rent.
Typical accommodation costs $10,929 or €9,676 per month.
This is a 4.9% increase on last year.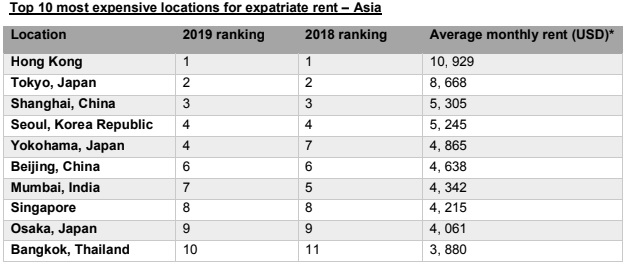 New York came in second followed by Tokyo, Shanghai and Seoul.