Politics, Storm Emma, the World Cup and Love Island were some of the most discussed news and entertainment hashtags on Twitter this year.
The social media firm has released it's annual #ThisHappened report into what Irish people were talking about on the platform.
Irish news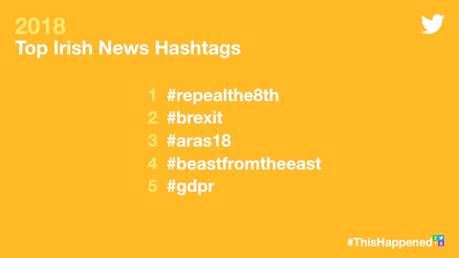 #repealthe8th was the most popular hashtag on Irish Twitter in 2018.
It's due to a massive referendum in May, which saw Ireland vote overwhelmingly to remove the article from the Constitution.
Other popular hashtags during the referendum were #together4yes, #8thref and #savethe8th.
Meanwhile, the Presidential election (#aras18) and #brexit were also heavily discussed.
To continue Ireland's obsession with the weather, #beastfromtheeast was also in the top 5.
TV news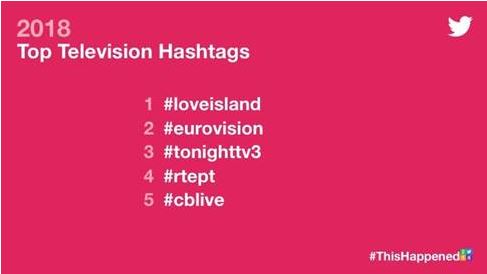 It comes as no surprise that Love Island was the most discussed TV programme last year.
The reality show once again gripped viewers, while people are still trying to keep up with winners Dani Dyer and Jack Fincham.
Ryan O'Shaughnessy's performance in the Eurovision had the country talking as he progressed to the final.
Sports news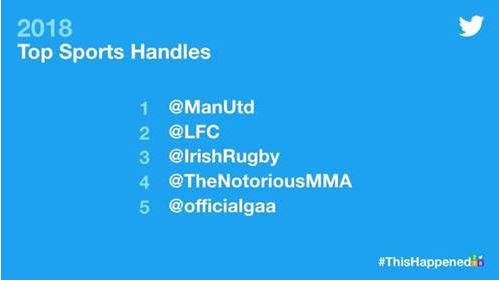 The progress of Man United, Liverpool and the Irish Rugby team dominated the sports discussions.
The Ireland rugby team's success in winning the Grand Slam and their famous win over the All Blacks had the country in buoyant mood.
Man United manager Jose Mourinho grabbed the headlines for the wrong reasons, while Liverpool's Jurgen Klopp was the opposite.
Meanwhile, Conor McGregor's return to the UFC and the launch of his whiskey brand, Proper 12 led mixed discussions on Twitter about The Notorious.