Friends: The Reunion
HBO Max have released the official full length trailer for their upcoming Friends reunion special.
And it's jam packed full of nostalgia, laughs and tears from all our favourite stars.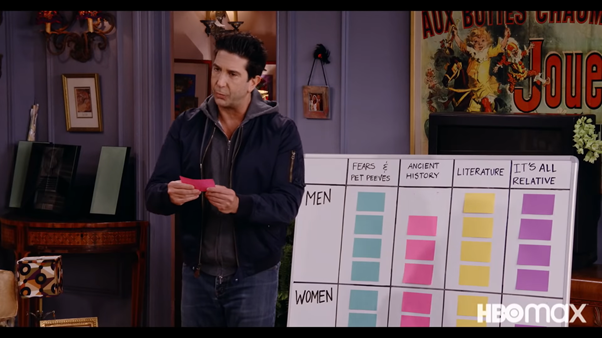 The trailer opens with the cast re-enacting the iconic trivia game episode from season four.
David Schwimmer's voice opens the trailer.
He tells the gang, "Rachel wrote Ross a letter, and demanded he read it before they got back together."
"How many pages was that letter?" He asks. "18 pages!" Yells Joey actor, Matt Le Blanc.
But David needs a bit more info, and he gets it from Rachel actress Jennifer Aniston, who yells, "Front and back!"
"Front and back is correct!"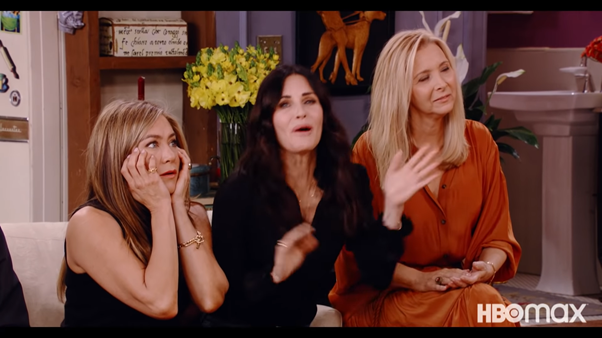 James Corden hosts the reunion
The camera cuts to the moment the cast arrive on set for the reunion.
At this point, we learn James Corden has been brought on board to interview them from the iconic water fountain.
"We have such a bond from this show," Lisa tells him from her seat on the famous sofa.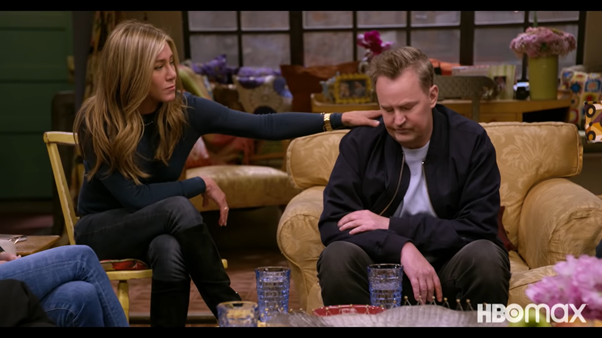 But there's only one question the Friends fanbase need an answer to; "Were Ross and Rachel on a break?"
In order, Jennifer Aniston (Rachel), Courteney Cox (Monica), Matthew Perry (Chandler), Lisa Kudrow (Phoebe) and David Schwimmer (Ross) agree, "Yes."
But Matt Le Blanc (Joey) on the other hand, completely disagrees. As he sips on his drink, he calls, "Bulls**t."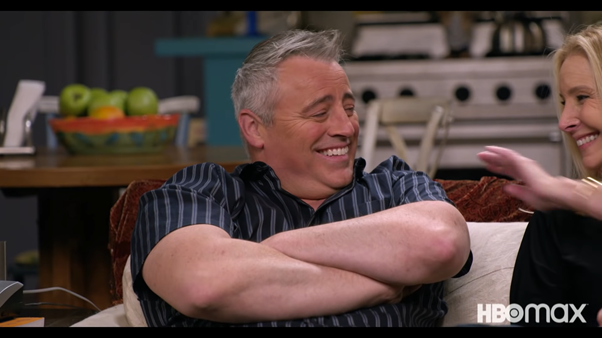 Central Perk
Later in the trailer, the cast reunite at Central Perk to discuss their casting in the series.
David believes, "everyone was so perfectly cast."
In their interview with James Corden, Jennifer reveals she left another sitcom in order to star in Friends. 
It's understood she had filmed a number of episodes of CBS' Muddling Through before she appeared in Friends. 
She tells James, "I remember I went to the producer of the show I was on and he said, 'That show's not gonna make you a star.'"
Matt Le Blanc later shares the story of the moment he realised how famous they had become.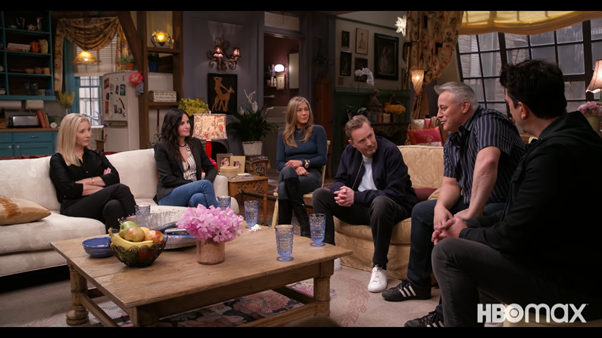 He recalls, "I had the news on, and on the TV, was an aerial shot of each of our houses."
"I remember looking at it going, 'What the... My roof is a mess.'"
Fans will be delighted to hear the group also re-enact iconic scenes from The One Where Everyone Finds Out.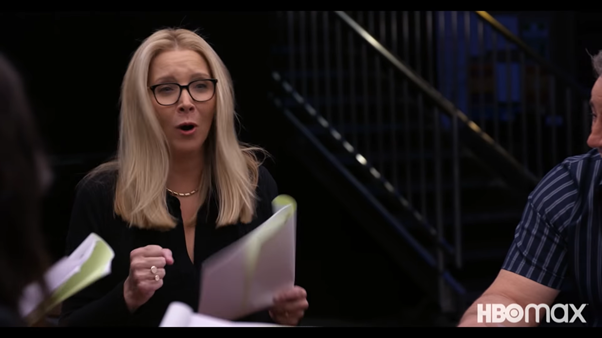 In character as Phoebe, Lisa shouts, "Oh! My eyes! My eyes!" If you know, you know.
The trailer gets super emotional towards the end, and Matthew Perry gets teary-eyed as he admits, "I'm gonna cry now."
Enjoy the full official trailer here:
https://www.youtube.com/watch?v=HRXVQ77ehRQ
Friends: The Reunion lands May 27th.