High School Musical: The Musical: The Series
Disney have released a clip showing a medley of performances from the upcoming High School Musical series.
We're given a sneak peek at their rendition of Breaking Free, Get'cha Head In The Game and loads more.
Look it'll never be as good as the original but in fairness to the cast, they're pretty close!
The video opens with the revelation that auditions for High School Musical are just around the corner.
We see the students practice their dance moves and do their research into the original movie.
Meanwhile, the background music is their rendition of Troy's iconic Get'cha Head In The Game.
 

View this post on Instagram

 
We then see the students hanging out in the canteen while Ricky pines over his ex Nini who's dating another student.
The lyrics from Stick To The Status Quo are sung in the background.
Ricky stands up and marches out of the canteen.
We soon discover Ricky and Nini have been cast as Troy and Gabriella in the musical.
The pair stand centre stage as they belt out the lyrics to Breaking Free from the original movie's soundtrack.
We're All In This Together is the final track sung in the video.
The original movies
The original movies follow the story of high school students Troy Bolton (Zac Efron) and Gabriella Montez (Vanessa Hudgens).
When they're forced to sing together on New Years Eve, there's an undeniable spark between them.
Faith has its way with the two when Gabriella's mother transfers her to East High for the semester.
And Troy just happens to be the most popular boy at the school.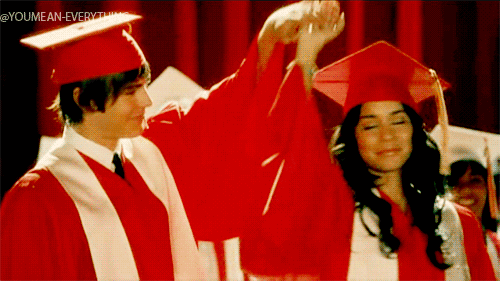 The 10-episode series airs on Disney+ November 12th.