Stranger Things season 4
The official Stranger Things writers' room Twitter account announced the title for season four, episode one.
They shared a picture of the script captioned, 'looking for new members... are you in?'
Episode one is named, Chapter One: The Hellfire Club.
 

View this post on Instagram

 
Stranger Things Day
They made the announcement as part of Stranger Things Day which takes place on November 6th.
That was the day that Will Byers disappeared into the Upside Down in season one.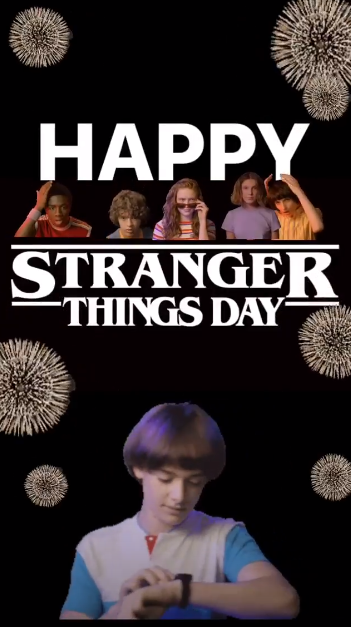 So in celebration, the stars of the show have been wishing their fans a happy Stranger Things Day in videos shared to the page.
In Finn Wolfhard's video he says, "Call nana, it's Stranger Things Day."
— S) November 6, 2019
Meanwhile, Millie Bobby Brown's clip sees her going down a water slide.
She tells the camera, "I dump you. Just kidding. Happy Stranger Things Day."
— ) November 7, 2019
— s) November 6, 2019
Blooper reel
In addition to the episode title, Netflix also delivered the season 3 blooper reel.
The 4 minute video features all our favourite characters and has already been viewed over 1 million times since the streaming service uploaded it yesterday.
Season 4
Just last month, Netflix announced that the series had been renewed for a fourth season.
They also revealed they signed a multi-year film and series deal with show creators The Duffer Brothers.
This means the boys will, 'bring their vivid imaginations to other [Netflix] film and series projects...'
The renewal news came with a teaser video showing the logo with the number four standing behind it.
The letters arrive in the middle of the woods as branches tangle around it before slowly turning black.
'We're not in Hawkins anymore'
A release date for the new season hasn't yet been announced.