Greg O'Shea
At the end of last night's Love Island, we were teased with three new islanders.
One of them is Limerick native and pro rugby player Greg O'Shea.
Here's everything we know about the latecomer:
 

View this post on Instagram

 
Greg's a pro rugby player
The 24-year-old is a Shannon and Ireland 7's rugby player.
He was originally with the Munster Academy before he took a bad fall off a bike in New York four years ago and injured his leg.
Speaking with The 42, he says the injury was so bad that he, 'wouldn't wish it on [his] worst enemy.'
 

View this post on Instagram

 
He goes on, 'It was insane. It's not like rupturing it. When you rupture it, you blow the fibres and then they eventually grow back in together.'
'But I actually fell off the bike and kicked the cog of it, which is the disk, you can see it there… the scar.'
 

View this post on Instagram

 
Greg describes the pain as, 'like getting a knife and cutting your Achilles.'
'There was just blood everywhere and I went to put my foot on the ground and your leg doesn't work without your Achilles, so your foot just flops.'
He flew home and was told he wouldn't be back in action for at least a year.
 

View this post on Instagram

 
Following the injury Greg couldn't play for the Munster Academy but was luckily picked up by the IRFU who offered him a place in their sevens programme.
'They stepped up, said they wanted me and I committed to them.'
'It's not breaking the bank with sevens but it's enough to keep going and it's paid off.'
 

View this post on Instagram

 
Career motives
Although he's a big name in the world of Irish rugby, the islander studied law in the University of Limerick.
'The plan is to become a solicitor once I retire. That's the big plan, but I'll do it in little steps!'
 

View this post on Instagram

 
Rugby runs in Greg's family and his first cousin Kelvin Brown is a former Ireland U20 flanker.
He's always been fairly active and even finished sixth place in the 100 metres at the 2011 European Youth Olympics when he was just 16.
 

View this post on Instagram

 
Greg considered pursuing a career in athletics but felt rugby was, 'a better career prospect.'
He won a place in the Munster Academy after he won a Munster Schools Senior Cup with Crescent College Comprehensive in 2013.
The islander also won two Junior Cups which gave him a place in the Academy straight after school.
 

View this post on Instagram

 
Relationships
Greg's a relationship guy. His last relationship lasted four years, the one before that was five.
He was set to propose to his last girlfriend but things didn't work out.
The islander shared numerous pictures with a mystery blonde girl on his Instagram account as early as last year.
However, before entering the villa, all posts featuring the blonde were deleted.
 

View this post on Instagram

 
She can however, be seen in Greg's Instagram Story saved to his page under the headline Longitude 2018.
He can be seen at the festival with the mystery girl and some friends.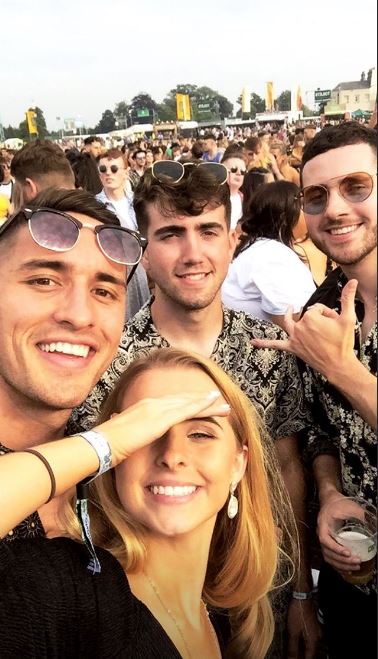 Greg is looking for a chilled girl in the villa and doesn't like a date who takes too many selfies.
He has his eye on Maura and thinks they'll hit it off immediately.
Speaking to Love Island producers he said, "She's very naturally funny and she's gorgeous as well so you never know."
 

View this post on Instagram

 
 

View this post on Instagram

 
Family
Judging from his Instagram account, Greg is a big family man.
He's always showing off his mother Carol on social media and even shared a picture with her on his graduation day.
 

View this post on Instagram

 
Carol paid a tribute to him on the same day.
Alongside a childhood photo of Greg she wrote,  'last of my babies graduates today.'
 

View this post on Instagram

 
His sister Laura has been hugely supportive of him entering the Love Island villa.
They're so close that they even got matching sibling tattoos with their other sibling Jessie.
 

View this post on Instagram

 
Social media
The islander had a Facebook page but it has since been removed.
His Twitter account for all things Love Island is brand new.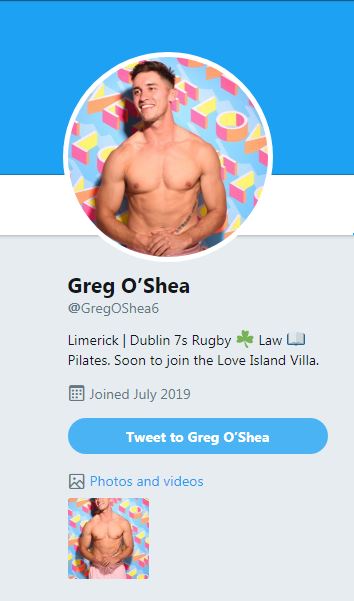 However, his Facebook profile revealed an older Twitter account (gregoshea95), but that page is no longer active.
The verified Munster Rugby page even tweeted @gregoshea95 to wish him luck on the show.
The Ireland U-20s have made a superb start to the 6 Nations!7 tries in a 47-15 win over Italy with Academy player @GregOShea95 dotting down

— Munster Rugby (@Munsterrugby) 6 February 2015
The same page tweeted him as far back as 2017 with the same account name to congratulate him on a win.
'Well done all great work.'
Well done all! Great work 👏🏻#IreM7s 🏃🏻💨 Congrats @gregoshea95 https://t.co/0DplXijH7V

— Munster Rugby (@Munsterrugby) 2 July 2017
At 7pm last night, Greg's Instagram page boasted a following of 2,443 people.
Since news of his Love Island entrance emerged, his profile now boasts a staggering 20.9k followers.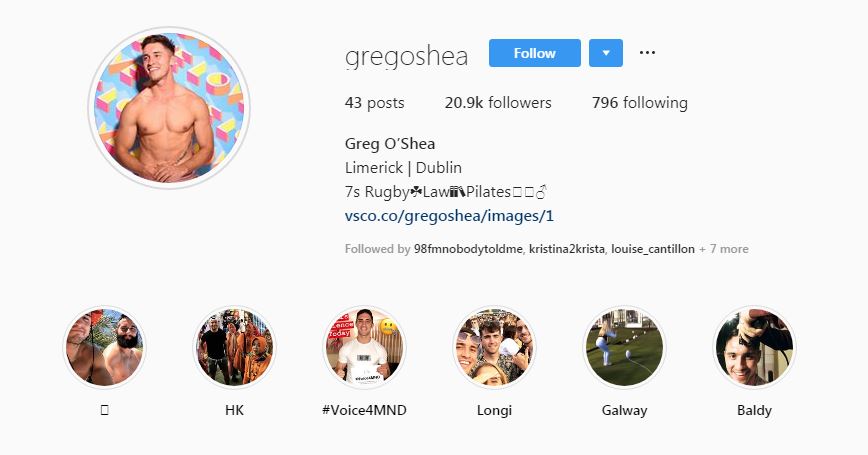 Greg's not the only bombshell entering the villa tonight. Get to know India and Harley here.
And go here to read Joanna's exit interview.
Love Island returns to Virgin Media Two tomorrow night from 9pm.
This Love Island content is brought to you by Flexi Fi. The Simple Alternative to Cash or card. Visit Flexifi.com