Irish Twitter 2020
Today, Irish Twitter released a list of the most popular tweets of 2020.
They shared what we hash-tagged, who we talked about and the stories we latched onto.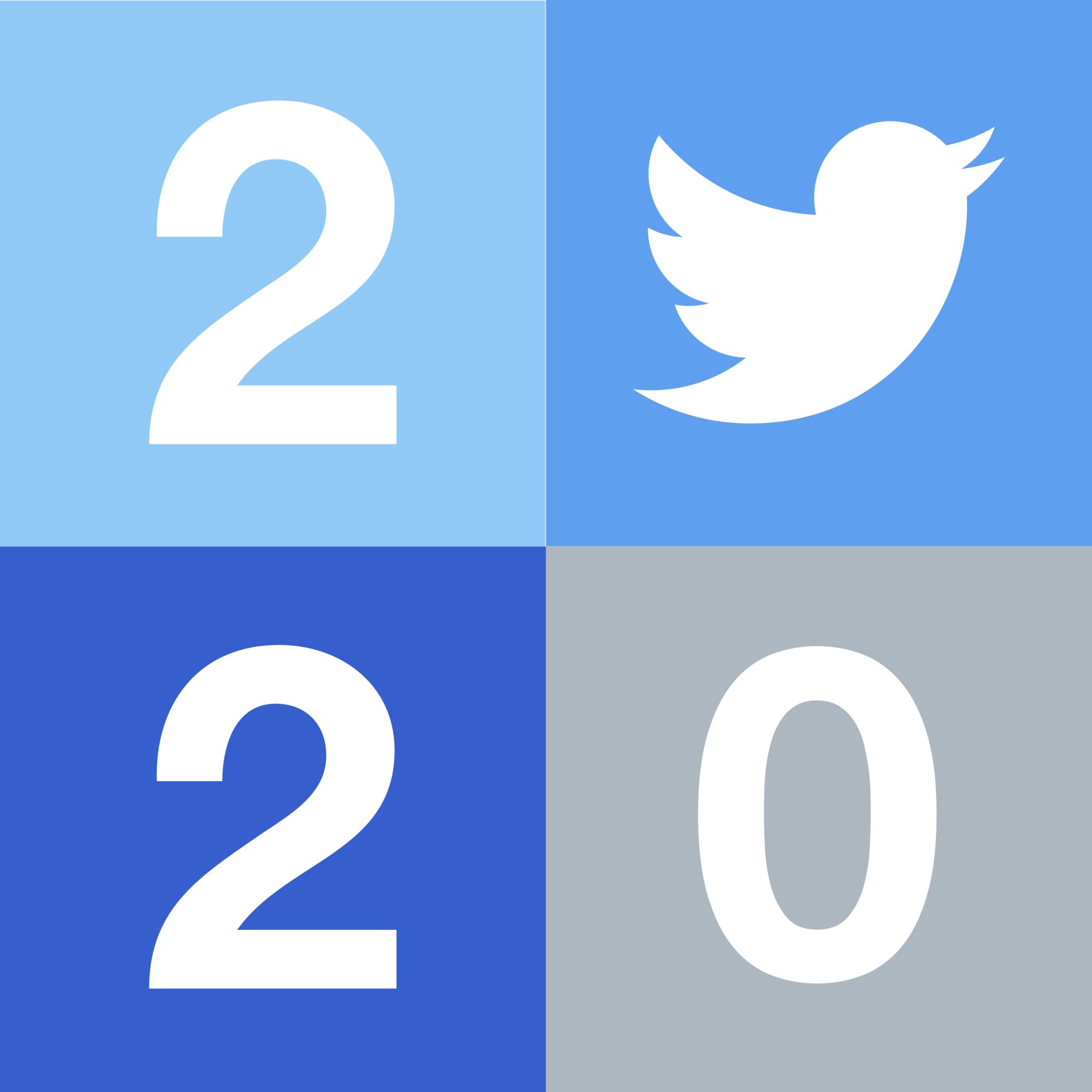 Here's a look back at Irish Twitter in 2020:
Most liked tweet
Paul Mescal's, 'I'm Irish,' tweet claims this title.
He made the comment after the UK media tried to claim him as their own.
I'm Irish.

— Paul Mescal (@mescal_paul) July 29, 2020
Tony Holohan's tweet announcing he's taking time away to spend with his family was also very popular.
Ireland also mourned the sad and untimely passing of much loved and admired actor Chadwick Boseman in August.
— Chadwick Boseman (@chadwickboseman) August 29, 2020
Another massively popular tweet came from Macaulay Culkin who shocked the world by revealing he turned 40 this year.
The trailer for Jamie Dornan's #WildMountainThyme also became a massive talking point on Irish Twitter.
Ah to be sure, to be sure... the trailer release for #WildMountainThyme certainly got us talking and in turn produced some inspired commentary as well as the most Quote Tweets.https://t.co/rTA1KdJZ1g

— Twitter Dublin (@TwitterDublin) December 8, 2020
Ireland and the world, not just the USA, seemed to wait with bated breath until Joe Biden was announced as President-elect. 
And we finished the year with one of the most talked about Christmas ads, which pulled at all our heart strings.
Warning: the below video could make you cry.
Christmas may be a little different this year but we all know who makes it extra special. Whether you're keeping old traditions or making new ones we all love a magical Christmas. You just have to Believe……..

Check out our Christmas advert ⬇ pic.twitter.com/P3xmNiRahr

— SuperValu Ireland (@SuperValuIRL) November 11, 2020
Hashtags in 2020
In addition to #Covid19 and #Coronavirus, Irish Twitter was actively following and talking about #GE2020.
It was also the year when the world and Ireland stood up and shouted that #BlackLivesMatter following the death of #GeorgeFloyd.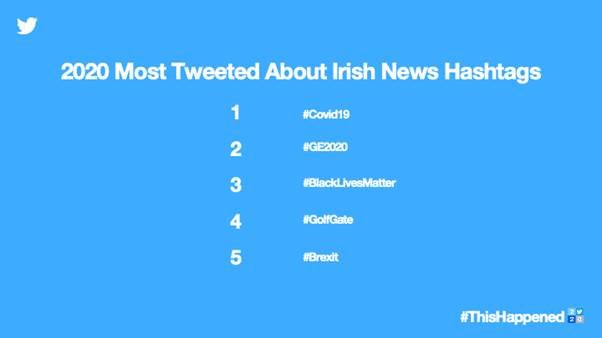 Other popular topics were #GolfGate and the continued ups and downs of #Brexit.
#LFC becoming Premier League champions was also a massive talking point for Irish people.
And of course #Trump and all things #Election2020.
STOP THE COUNT!

— Donald J. Trump (@realDonaldTrump) November 5, 2020
Sport in 2020
Marcus Rashford's was the most talked about sports person on Irish Twitter in 2020.
He was followed by Conor McGregor, Paul Pogba, and the untimely loss of Kobe Bryant.
While Bruno Fernandes rounds off the list.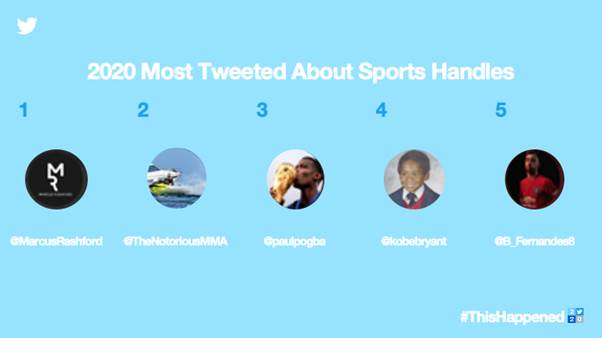 Another massive global sporting story on Twitter this year was the death of one of soccer's greatest legends, Diego Maradona.
Millions shared their love and grief on the platform and tributes continue to pour in every day.
⚡ Unstoppable ⚡#DiegoMaradona 🇦🇷🔝🔟 pic.twitter.com/x1XUU9WlLR

— AS English (@English_AS) December 7, 2020
Entertainment in 2020
For the second year running, Irish Twitter showed its grá for #LoveIsland.
It's top of the list of most talked about entertainment moments on Irish Twitter.
Actual us rn: 😳

See what more of our most iconic Islanders are up to now: https://t.co/w7GClm5TqS #LoveIsland pic.twitter.com/hyz7ESjZJQ

— Love Island (@LoveIsland) October 22, 2020
This was followed closely by Alison Spittle's #CovideoParty.
Marianne, Connell and their romantic ups and downs in #NormalPeople was also a massive story.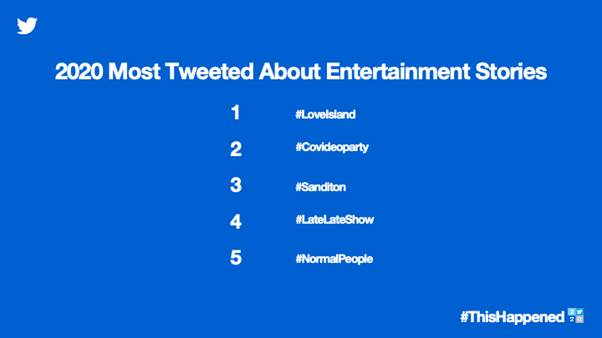 Music in 2020
When it comes to Irish Twitter's favourite tunes, 2020 was the year of Ariana Grande.
Joining her in second and third was our own Niall Horan and his former bandmate Louis Tomlinson.
This year, they celebrated #10YearsOfOneDirection.
Emotion filled day today. The love from around the world 10 years on is amazing. Thank you for your loyal support as always. Crazy what 5 normal guys can achieve. Proud ❤️ #10YearsfOneDirection

— Niall Horan (@NiallOfficial) July 23, 2020
Out of nowhere Jedward came in at number four, possibly due to their Tweets encouraging us all to #WearAMask.
And slipping from last year's number three to this year's fifth but still a fan favourite is Liam Gallagher.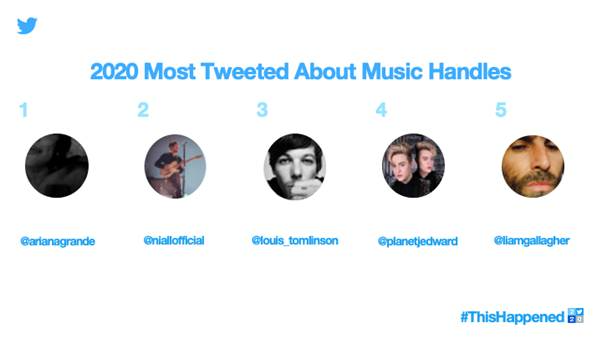 What a year it's been!
Cover photo via The BBC