Kellan Lutz is expecting his first child
Kellan Lutz has announced he's expecting his first child with wife Brittany Lynn Lutz.
The actor is best known for his role as Emmett Cullen in the Twilight saga.
Emmett's gonna be a dad!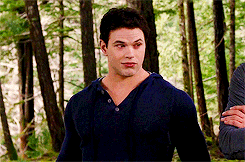 Kellan announced the news on Instagram over the weekend.
He shared a picture of himself and his wife holding up a child's jacket.
'so pumped for our lil family to grow into 3'
It seems Thanksgiving is a very special time of year for the happy couple.
In 2017 they announced they tied the knot in an Instagram post.
The picture shows them holding up Mr. and Mrs. passports, 'Thanksgiving by far is my most favorite holiday of all.'
And while Kellan's starting a new family, his former Twilight co-star Robert Pattinson is preparing to play the next Batman.
Read more here.