Sophie Turner and Joe Jonas are planning a big wedding
The Jonas brother spontaneously married Sophie Turner in Las Vegas earlier this month.
However, it's reported they're planning a huge wedding in France for friends and family this summer.
 

View this post on Instagram

 
Sources have been speaking to Us Weekly and they've spilled the beans on the wedding.
'Joe and Sophie want to have a huge party... The decor is going to be sophisticated, but there'll be some kitschy elements, including a really wild cake.'
'There'll be a live band, and the Jonas Brothers are expected to take the stage.'
 

View this post on Instagram

 
Joe is currently promoting his reunion tour with the Jonas Brothers while Sophie's been promoting her new movie X Men: Dark Phoenix.
They're both pretty busy so it's believed they're leaving it with their wedding planner.
'They've been taking a backseat since there both so busy.'
 

View this post on Instagram

 
They tied the knot in Vegas earlier this month
Diplo shocked the internet when he live streamed their spontaneous Vegas wedding.
The ceremony took place less than two hours after the Billboard Music Awards where Joe was performing with his brothers.
 

View this post on Instagram

 
They had an Elvis impersonator officiate the wedding while Diplo acted as their photographer for the night.
He shared videos and pictures of the happy couple at the alter.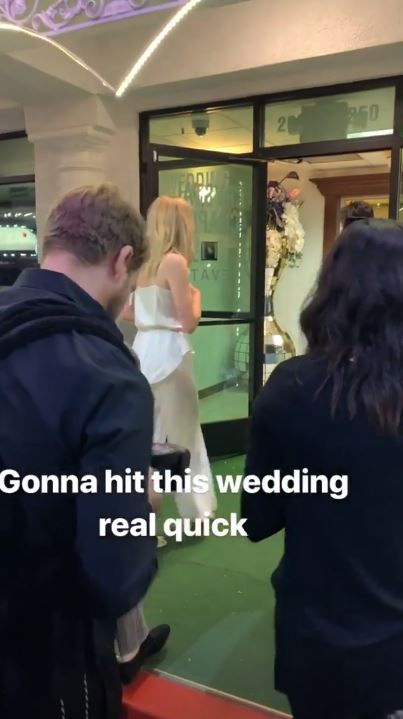 They had country music duo Dan + Shay perform at the ceremony.
The musicians sang their hit song Speechless as Turner made her way to the alter.
Priyanka Chopra said they'll have a lavish wedding
Joe's sister-in-law Priyanka Chopra explains exactly what went down at the wedding in an interview with Access.
"it's so Jophie! That was so fun! It was so fun. And it's so Jophie! I call them Jophie."
"Like trust them to do that... that is Jophie."
Priyanka reveals the whole idea came from Joe.
"It was really funny. We were at the Billboards. Joe I think had this idea that he wanted to do this."
"But we were at the Billboards and he had these little black cards that we all got."
 

View this post on Instagram

 
Priyanka accidentally lets slip that the happy couple will have a lavish wedding.
"They're gonna have this amazing, beautiful wedding obviously. Oh... was I not supposed to say that?"
Joe will take to the stage at Dublin's 3Arena with the Jonas Brothers on the 31st of January next year.
Read more about that here.