Shawn Mendes and Camila Cabello
It's all over for Hollywood's favourite couple, Shawn Mendes and Camila Cabello.
They announced their split in a joint statement, after more than two years of dating.
 

View this post on Instagram

 
The statement reads: 'Hey guys, we've decided to end our romantic relationship but our love for one another as humans is stronger than ever.'
'We started out relationship as best friends and will continue to be best friends.'
'We so appreciate your support from the beginning and moving forward.'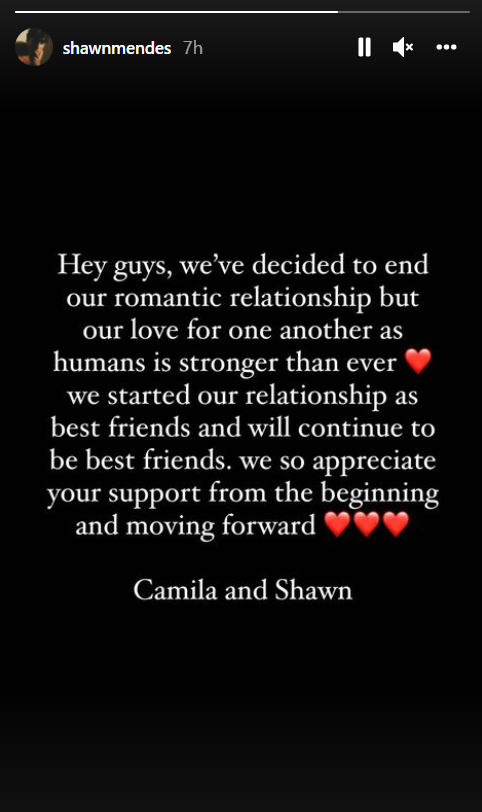 This comes as a bit of a shock to fans, who thought the couple were still going strong.
They spent Halloween together just two weeks ago.
In cute pictures and videos posted online, they posed for the camera and danced like nobody was watching.
 

View this post on Instagram

 
They started dating in Summer 2019, after being good friends for years.
In his Wonder documentary, they shared the story of how they first met and it's adorable.
Shawn recalled, "She was in Fifth Harmony and we were both opening."
 

View this post on Instagram

 
"My favorite first tour ever and she was the act after me."
"I was the first in the lineup, with the shortest set, and then they went on... five years ago, man."
Shawn also revealed that every song he's written is about her.
 

View this post on Instagram

 
He said, "She literally had no idea. This whole time, I thought she like knew."
"I don't think I'll able to write songs that really do it justice that can really capture the things and the feelings with her."
Shawn compared it to taking a photo of the moon and the stars with your iPhone.
 

View this post on Instagram

 
He elaborated, "It just doesn't look good. And you're like, 'It's not supposed to be captured.'"
Read more here.