Vanessa Morgan's pregnant
Riverdale's Toni Topaz Vanessa Morgan is pregnant!
The actress shared the news on social media over the weekend, revealing she's having a baby boy.
 

View this post on Instagram

 
Vanessa shared a video of the moment she found out she was having a baby boy.
She also shared a clip of the ultrasound and the pregnancy test dated May 20th 2020.
The actress wrote in the comments that she debated, 'keeping this part of [her] life hidden.'
 

View this post on Instagram

 
However, she realised people would find out eventually, and she wanted her fans to hear it from her first.
Vanessa wrote, 'I do want to keep this chapter of my life private but did want to be the first to share the news.'
'I am overjoyed to be welcoming my baby boy into the world this January'
 

View this post on Instagram

 
'...life is so precious'
The 28-year-old continued, 'It's almost like everything I thought mattered in this life has completely changed..'
'We're here for such a greater purpose and life is so precious.'
'I can't believe how much growth & strength you've already given me as your mom.'
 

View this post on Instagram

 
Addressing her unborn child, Vanessa said, 'It's like God knew I needed you, my angel.'
'The universe works in mysterious ways but always times everything the way it was meant to be.'
'Lil one you were made with so much love & already exude a light so strong it warms my belly.'
 

View this post on Instagram

 
Vanessa wrapped up, 'Thank you God for this blessing I'm just so happy & can't wait to dedicate everyday to being the best mommy I can be'
'"I'll love you forever I'll like you for always as long as I'm living my baby you'll be" - if you know you know'
'#preggers #quarantine'
 

View this post on Instagram

 
Riverdale stars react
Vanessa's Riverdale co-stars have been reacting to the news in the comments section.
Veronica actress Camila Mendes wrote, 'omg vanessa!!! so excited for you. congrats boo'
While Betty actress Lili Reinhart shared her reaction through emojis.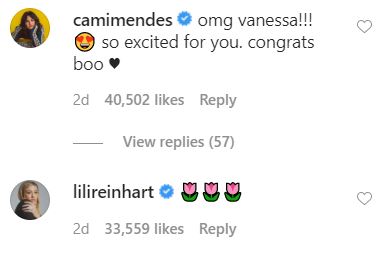 Riverdale creator Roberto Aguirre-Sacasa commented with eight heart emojis.
And Hermione actress Marisol Nichols commented, 'Yes!!!! You're gonna be an amazing mom!!!'
 

View this post on Instagram

 
Massive congrats to Vanessa and her husband!