Priyanka Chopra talks "Jophie's" spontaneous Vegas wedding
Model Priyanka Chopra attended Joe Jonas and Sophie Turner's Las Vegas wedding.
They tied the knot less than two hours after the Billboard Music Awards.
Joe's sister-in-law Priyanka Chopra explains exactly what went down in an interview with Access.
 

View this post on Instagram

 
In an interview with Access this week, Priyanka exclaimed, "it's so Jophie!"
"That was so fun! It was so fun. And it's so Jophie! I call them Jophie."
"Like trust them to do that... that is Jophie."
 

View this post on Instagram

 
Priyanka accidentally lets slip that the happy couple will have a lavish wedding.
"They're gonna have this amazing, beautiful wedding obviously. Oh... was I not supposed to say that?"
 

View this post on Instagram

 
It was Joe's idea
Priyanka reveals the whole idea came from Joe.
"It was really funny. We were at the Billboards. Joe I think had this idea that he wanted to do this."
"But we were at the Billboards and he had these little black cards that we all got."
 

View this post on Instagram

 
"We were randomly inviting our friends, like people that we met."
"We were like, 'alright, we're going to set up this wedding now, we're going to the chapel right from here, and please arrive, please arrive."
 

View this post on Instagram

 
Guests
No surprise here but the newlyweds had a star studded crowd attend the ceremony.
"We had Diplo, Khalid, they were really sweet, they arrived."
"Diplo Instagram Live-d the whole thing, it was awesome!"
 

View this post on Instagram

 
"I mean we were driving around in this pink hummer limo, I was outside the window... it was just epic!"
"It was a Jophie kind of night."
 

View this post on Instagram

 
The wedding
Joe and Sophie have been engaged since October 2017 so this isn't a complete shock to the system.
However, we never predicted they'd marry in Las Vegas with an Elvis impersonator officiating the wedding.
Diplo shared videos and pictures of the happy couple at the alter.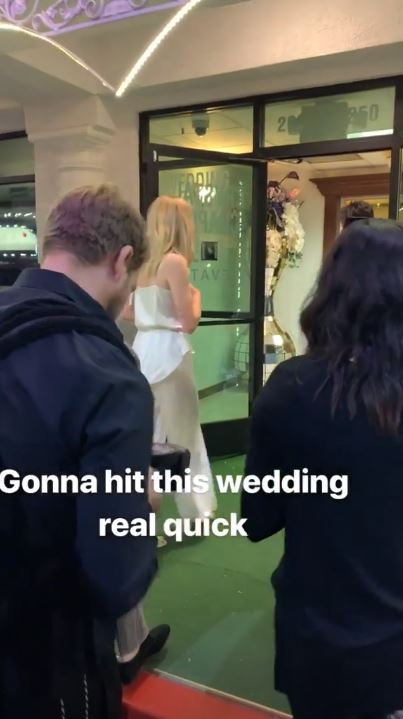 Joe was beaming as he waited for Sophie to walk down the aisle.
They had country music duo Dan + Shay perform at the ceremony.
The musicians sang their hit song Speechless as Turner made her way to the alter.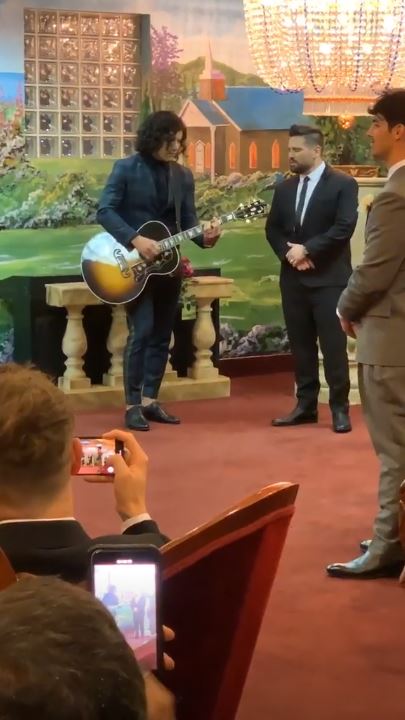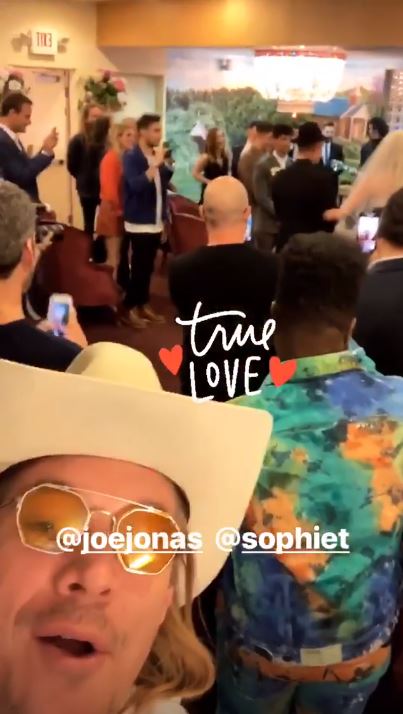 At Elvis' mark they both repeated, 'I promise you, I will never leave you. I will love and trust you all the days of my life.'
Elvis then told Joe, 'You may kiss the bride.'
 

View this post on Instagram

 
Priyanka Chopra and Nick Jonas wedding
There's a stark contrast between Sophie and Joe's wedding in comparison to Priyanka and Nick's wedding.
Nick Jonas wed Priyanka Chopra at a four-day ceremony in India last December.
One of the most special things that our relationship has given us is a merging of families who love and respect each other's faiths and cultures. And so planning our wedding with an amalgamation of both was so so amazing. pic.twitter.com/KcTD5D4MAw

— Nick Jonas (@nickjonas) 1 December 2018
They tied the knot four months after becoming engaged.
Chopra married in a custom made Ralph Lauren ensemble.
In fact, the entire wedding party wore custom outfits by the designer in a lavish Indian ceremony.
 

View this post on Instagram

 
Priyanka loves that both brothers are very different but they're still best friends.
"Nick and Joe both are so different but are best friends and that's what's beautiful about their relationship."
"You can see that in the weddings as well it was very reflective of the two of them and of us as well."
 

View this post on Instagram

 
 

View this post on Instagram

 
You can read all about Priyanka and Nick's wedding here.