It's all over for Maura Higgins and Curtis Pritchard
Maura Higgins has announced her split from Curtis Pritchard.
The pair met on last year's series of Love Island and even made it to the final of the show.
 

View this post on Instagram

 
Taking to Instagram Stories, Maura writes, 'Curtis and I have made the decision to separate.'
'We enjoyed a great experience from our time in the villa and want to thank everyone for supporting our relationship.'
 

View this post on Instagram

 
She goes on, 'There is no easy way to get through a breakup and no bad feeling on either side.'
'We tried to make it work but it wasn't to be and I wish Curtis nothing but the best for the future.'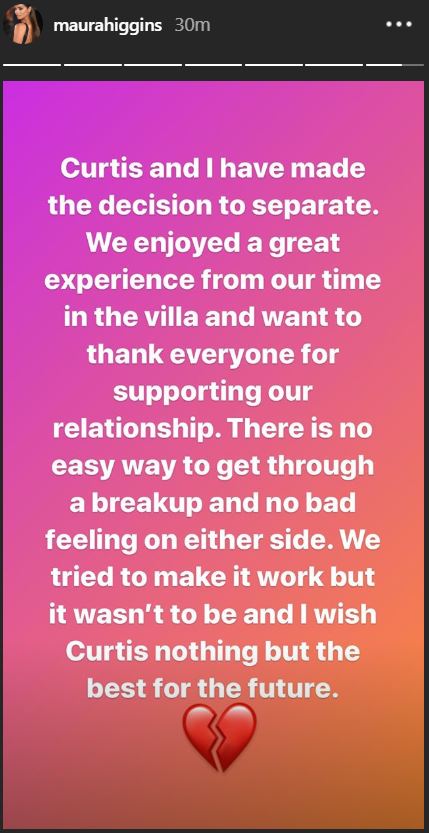 Instagram Stories @maurahiggins
Maura and Curtis
The pair met on last year's series of Love Island and made it all the way to the final.
Curtis had originally been coupled up with Amy in the villa.
However, it wasn't long before they called off their exclusive coupling.
Maura had been in a few different couples at this stage but hadn't found anyone she truly connected with.
When Amy and Curtis split, she told him she had feelings for him.
This came as a surprise to pretty much everyone.
Just as Curtis and Maura were getting to know each other on a deeper level, new girl Francesca made an entrance.
The dancer wanted to keep seeing Maura while also getting to know Francesca.
He soon discovered his feelings for Maura were much stronger than his feelings for Francesca.
Curtis and Maura re-coupled and despite their many disagreements, they stuck it out 'til the end.
The couple came in fourth place on the series.
 

View this post on Instagram

 
Curtis hasn't made any comment.