Love Island's Maura is home
Curtis and Maura have arrived in Ireland to film a segment for Love Island: Aftersun. 
The happy couple landed in Stansted Airport on Wednesday morning before jetting off to Ireland that night.
The dancer shared the news of their arrival on Instagram a couple hours ago, 'Still can't believe we are out of the villa!'
'Loving this journey with @maurahiggins and being in Ireland to meet her family and friends!'
'Who's excited for aftersun this Sunday?'
Maura also shared a picture to Instagram Stories to tell her 1.8m followers that she's home.
'Great to be home'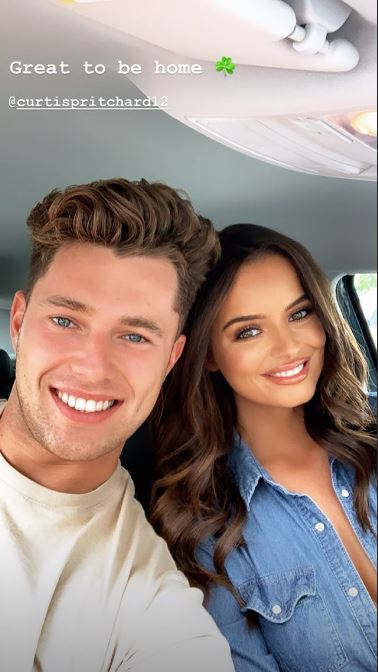 Curtis & Maura
The pair met on this year's series of Love Island and made it all the way to the final.
Curtis had originally been coupled up with Amy in the villa.
However, it wasn't long before they called off their exclusive coupling.
Maura had been in a few different couplings at this stage but hadn't found anyone she truly connected with.
When Amy and Curtis split, she told him she had feelings for him.
This came as a surprise to pretty much everyone.
Just as Curtis and Maura were getting to know each other on a deeper level, new girl Francesca made an entrance.
The dancer wanted to keep seeing Maura while also getting to know Francesca.
He soon discovered his feelings for Maura were much stronger than his feelings for Francesca.
Curtis and Maura re-coupled and despite their many disagreements, they stuck it out 'til the end.
The couple came in fourth place on this year's series.
The 2019 islanders will make an appearance on the Love Island: Aftersun reunion episode this Sunday night from 9pm on Virgin Media Two.