Justin Bieber apologises
Justin Bieber has apologised for his 'insensitive' April Fools joke.
He shared an ultrasound and tricked people into thinking Hailey was pregnant.
Many followers felt this was disrespectful to those who can't have children.
 

View this post on Instagram

 
The singer shared a lengthy post on Instagram apologising for his prank.
'There's always gonna be people offended, there's also people who don't take jokes very well...'
'I am a prankster and it was APRIL FOOLS. I didn't at all mean to be insensitive to people who can't have children.'
 

View this post on Instagram

 
'A lot of people I know, their first go to prank on April fools is telling their parents they are pregnant to get a big reaction.'
'But I will apologize anyway and take responsibility and say sorry to people who were offended.'
'I truly don't want anyone to be hurt by a prank...'
 

View this post on Instagram

 
'It's like when I shoved cake in my little sisters face for her birthday expecting her to laugh but she cried.'
'Not to compare pregnancy with cake in the face but it's just to paint the picture of not knowing what will offend.'
'Some might have laughed but some were offended .. I think With pranks u sometimes have to roll that dice.'
 

View this post on Instagram

 
Reactions
Some responses to the 25-year-old's Instagram post were quite good...
'literally he didn't do anything wrong but enjoy this holiday with his wife.'
'It's funny how some people will be completely ignored but celebrities are constantly being watched.'
'Let him enjoy his own life and maybe try to get one of your own.'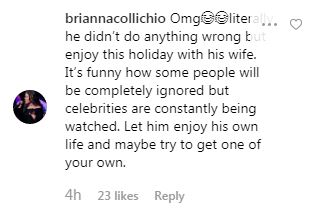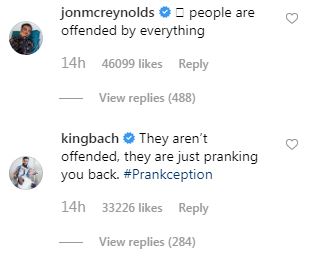 While others were pretty bad...
One user wrote, 'Man, shut the f**k up! PREGNANCY IS NOT A F***ING JOKE!'
'You can't f***ing compare faking pregnancy to smashing cake in someone's face!!! Grow the f**k up!!!'
Another commented, 'Newsflash: you can prank people WITHOUT being an insensitive pr**k.'
'I hope and pray you will never have to feel the pain of infertility or suffer the loss of a child before they're even born.'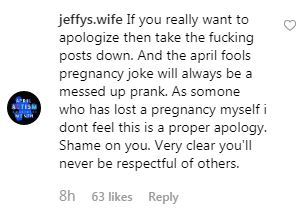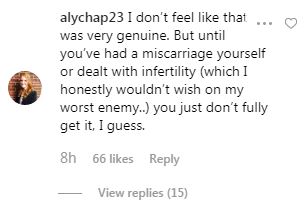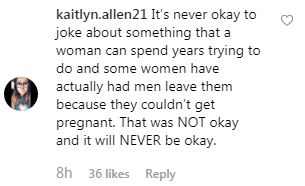 Justin hasn't commented any further.