Anton Danyluk outs Love Island producers
Love Island 2019 contestant Anton Danyluk has shared the truth behind that Snog, Marry, Pie drama of the 2019 series.
The Islander became the villain of the villa after he chose to kiss Anna Vakili over his partner Belle.
But he tells Casa SPIN there's more to the story that people don't know about.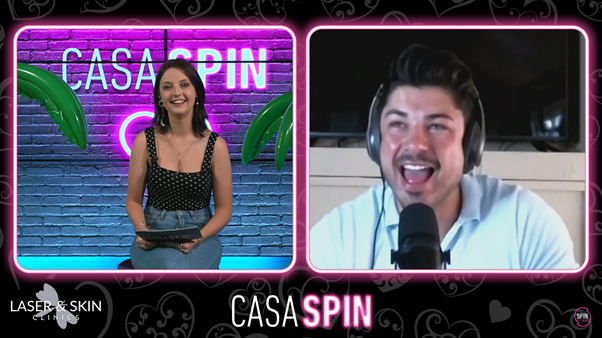 On the latest episode of Casa SPIN, Anton and SPIN presenter Tara Walsh reflected on the results of this year's challenge.
Anton said, "The boys got away with it so much this year."
During the week, Jake made headlines after he chose to snog Kaz over his partner Liberty.
However, Liberty didn't seem phased, and after his experience in 2019, Anton couldn't understand why.
He said, "I watched it and when I watched the trailer, I thought, 'Oh, [Jake's] going to be in so much trouble.'"
"And then he just got away with it."
Jake is the Anton of 2021
Tara told him that people online are referring to Jake as the Anton of the 2021 season.
The Islander decided now was as good a time as any to finally tell the truth behind that 2019 disaster.
"Let's do Anton's behind the scenes of the week that's going to get me in trouble with the Love Island producers," he said.
 

View this post on Instagram

 
The gym owner joked, "This is why they probably don't message me anymore."
He began, "What actually happened in my year was the girls went first and all the girls were kissing the person they were coupled up with, marrying whoever they liked the most, and then pieing whoever they disliked the most."
"So after the girls finished, the producers come running in."
 

View this post on Instagram

 
He continued, "They're like, 'This is absolutely boring, this is not entertaining at all. Guys, I want you to kiss someone, marry the person you're coupled up with and then pie who you want to pie.'"
"Obviously Anton's first, isn't he? I'm going to do what the producers tell me to do, obviously."
 

View this post on Instagram

 
"It was just a peck!"
Anton revealed, "So I'm like, 'Right okay, that's fine. I'll kiss Anna 'cause she's like my best mate...' It was just a peck!"
He defended, "Literally a peck. Jake full on snogged Kaz, I pecked Anna. Anyway, not the point."
"I done that, I kissed Anna and then obviously Belle reacted the way she did and then the rest of the boys seen that reaction, and then they all bottled out of it."
 

View this post on Instagram

 
"So I ended up getting sh*t. That's literally what happened," Anton insisted.
"People have always said to this day, 'We loved Anton up until that point, and then he just shown his true colours,' and it wasn't even me."
"It wasn't even me, and that was the thing about it."
Tara remarked that the producers really put Anton in the line of fire and he replied, "Yeah. But they knew I would do it."
"I just done anything to make them happy!" He laughed.
Anton went on to reveal the girls actually knew that producers had asked him to play the game that way.
 

View this post on Instagram

 
"They heard them say it"
He explained, "This is the annoying thing, the girls were there when they said it so they heard them say it."
"So Belle should never have reacted the way she reacted."
"Belle said to me, she said, 'You better not do that. You always do what they tell you to do, just don't mug me off.'"
 

View this post on Instagram

 
"And I said, 'Belle, I've known you a week, I'm going to do what the producers say like that's just fact, I'm going to do what the producers say."
"I don't feel like kissing someone in a challenge, especially a peck, was a bad thing anyway."
"And the things that I was going to say to Belle were so nice, and she just didn't have it."
 

View this post on Instagram

 
Anton admitted this Love Island moment really, "pi**ed," him off, "because it made [him] look terrible."
"And it was never ever me that actually made that decision."
Tara asked if he could go back and do it again, would he do it the same way, and he replied, "Of course."
What actually happened?
If you don't remember what went down during Anton's Snog, Marry, Pie challenge, don't worry, we've got you.
So basically, the annual challenge sees the girls line up, and the guys choose who they want to snog, marry or pie, and vice versa.
At the time of the challenge, Anton was coupled up with Belle Hassan.
 

View this post on Instagram

 
What we saw on TV was Anton making the decision himself to kiss Anna and marry Belle.
He quickly became the villain of the villa, with everyone at home questioning his decision. Not to mention Belle went off at him!
Watch the moment back here:
This article was brought to you with The Laser & Skin Clinic - experts in the field of aesthetics and body treatments.