Anna Vakili breaks her silence
Love Island's Anna Vakili has spoken out after footage showing her in a physical brawl emerged online.
In a statement released on Instagram Stories, the reality TV star claimed she was acting in self defense.
Anna and Mandi Vakili have every right to defend themselves. pic.twitter.com/a9xgRyiXNK

— Abdulah (@Abdula_tygah) May 26, 2020
The video released this week shows Anna and her sister Mandy in a very physical row with a group in Hyde Park.
Addressing the issue on Instagram Stories, Anna started by saying she's used to people shouting abuse at her on the streets.
'I have learned to turn a blind eye and remove myself from the situation,' she wrote.
 

View this post on Instagram

 
The Love Island star explained that she was having a picnic with her sister, boyfriend and cousin when the fight broke out.
It all kicked off when they, 'were subjected to continuous verbal abuse from a group who came near us who were doing drugs.'
Anna claimed they, 'came over swung at [her] cousin and threw her by her hair leaving her bleeding.'
 

View this post on Instagram

 
Anna says she acted out of, 'self defence'
Anna defended her actions in the video, saying, 'Out of self defence we had to get them off of her and leave.'
'There was a large group of them and not many of us.'
The reality star went on to reveal, 'the guys with them kept shouting they have a gun.'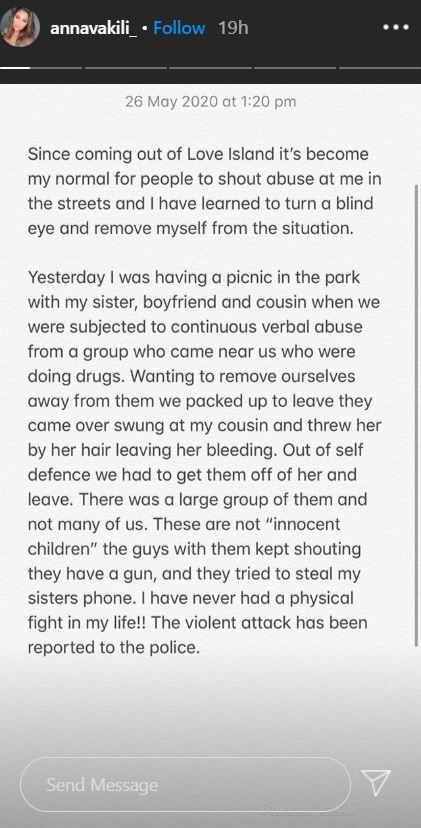 Instagram Stories @annavakili_
The 29-year-old also pointed out that she has never been involved in a physical row in her life.
She encouraged her followers to re-watch the longer video, 'You will see they started attacking my cousin and swinging her on the floor by her hair.'
 

View this post on Instagram

 
Online trolls
Hitting back at online trolls, Anna wrote, 'All these DMs and messages from people that weren't even there.'
Anna questioned, 'Why would we randomly attack anyone ???? Use your brains.'
'We were attacked verbally and physically first because they knew me.'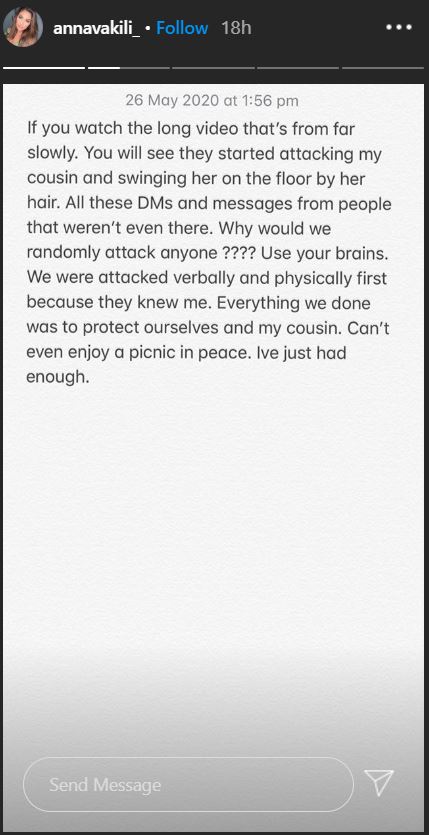 Instagram Stories @annavakili_
Anna later shared a photo of herself with a tear running down her cheek.
She captioned the image, 'I can't get out of bed. I'm exhausted and sick of the abuse since coming off TV.'
Addressing online trolls, she wrote, 'Just because of fame you think you can tear me down.'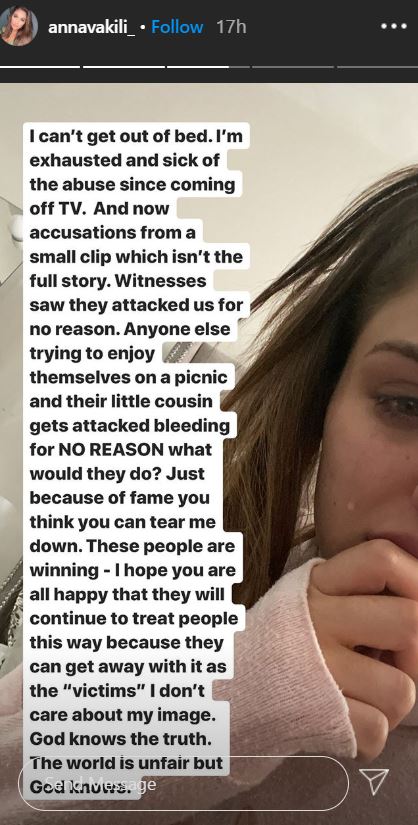 Instagram Stories @annavakili_
Further statements
A representative for Anna told MailOnline that the incident has been reported to police.
'The very serious matter is now being dealt with the police as they were threatened with illegal weapons during the attack.'
 

View this post on Instagram

 
Meanwhile, a Metropolitan Police spokesperson also released a statement to the publication.
They said that they're, 'aware of an allegation of assault in Hyde Park, on Monday, May 25, at approximately 20:00.'
'We will attempt to contact the complainant to establish the circumstances.'
 

View this post on Instagram

 
No further comment has been made.