A Dublin City councillor says Gardai need to crack down on the use of scramblers after two collisions in just over a week.
Four people are in hospital after the crash between a bike and a car on Decies Road in Ballyfermot yesterday evening.
Last week a toddler was seriously injured in a collision involving a scrambler nearby at Cherry Orchard Park.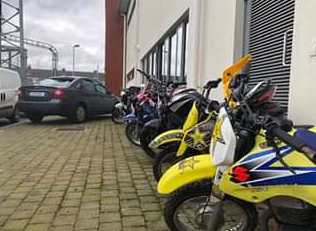 'Totally Unacceptable' - Doolan
Cllr Daithi Doolan says people trying to go about their normal lives are being tormented by those on the bikes:
"The sad thing about last night, when we had four people ending up in hospital, one of them was a totally innocent bystander."
"I believe he was working for a local takeaway and when he was reversing out onto the road he got hit straight on by three lads on a scrambler."
"Unacceptable."
"Totally unacceptable."
"People are terrorised on the streets now because of these scramblers."
"They come out of nowhere, they [drivers] have no sense of self protection of the protection of others."
"They have no sense of safety"
Main Image: File Photo