Anna Kendrick in Disney's latest Christmas movie
Disney have released the trailer for their upcoming Christmas movie Noelle starring Anna Kendrick.
She plays Santa Claus' daughter in the feature which premieres this November.
Anna's character narrates the trailer, "My name is Noelle Kringle. Christmas runs in my family."
"My dad was Santa and now it's my brother Nick's turn to wear the hat."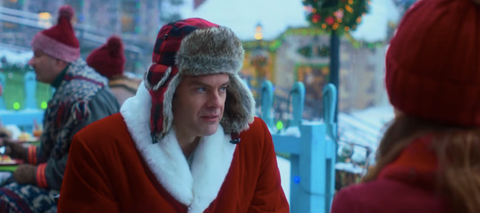 Bill Hader plays her brother in the movie and it's clear he's not the best replacement for Santa Claus.
Noelle shows him a picture of a little boy and he responds, "Stocking full of coal if I ever seen one."
She responds, "He saved a kitten from a tree..."
He confides in his sister, "Sometimes I dream of getting out."
Noelle tells him, "Well you can't be Santa if you're having a nervous breakdown."
"You need to get away for the weekend."
When he fails to return from his weekend away, the whole town begins to worry.
They eventually elect Gabriel Kringle from the tech department of the North Pole as the new Santa Claus.
He doesn't seem impressed, "I'm in the tech department and loving it."
Noelle suggests, "What about a rescue mission?"
So she gathers the reindeer and heads off on an adventure in search of her brother.
This is where the story gets interesting. Watch the full trailer below:
The movie premieres on Disney+ on the 12th of November.