SPIN's Irish exclusive with the cast of Space Force
SPIN 1038's Sarina Bellissimo caught up with the cast of Space Force for an Irish exclusive interview this week.
She spoke to Lisa Kudrow, Diana Silvers, John Malkovich, Ben Schwartz and loads more.
Check out the interviews here: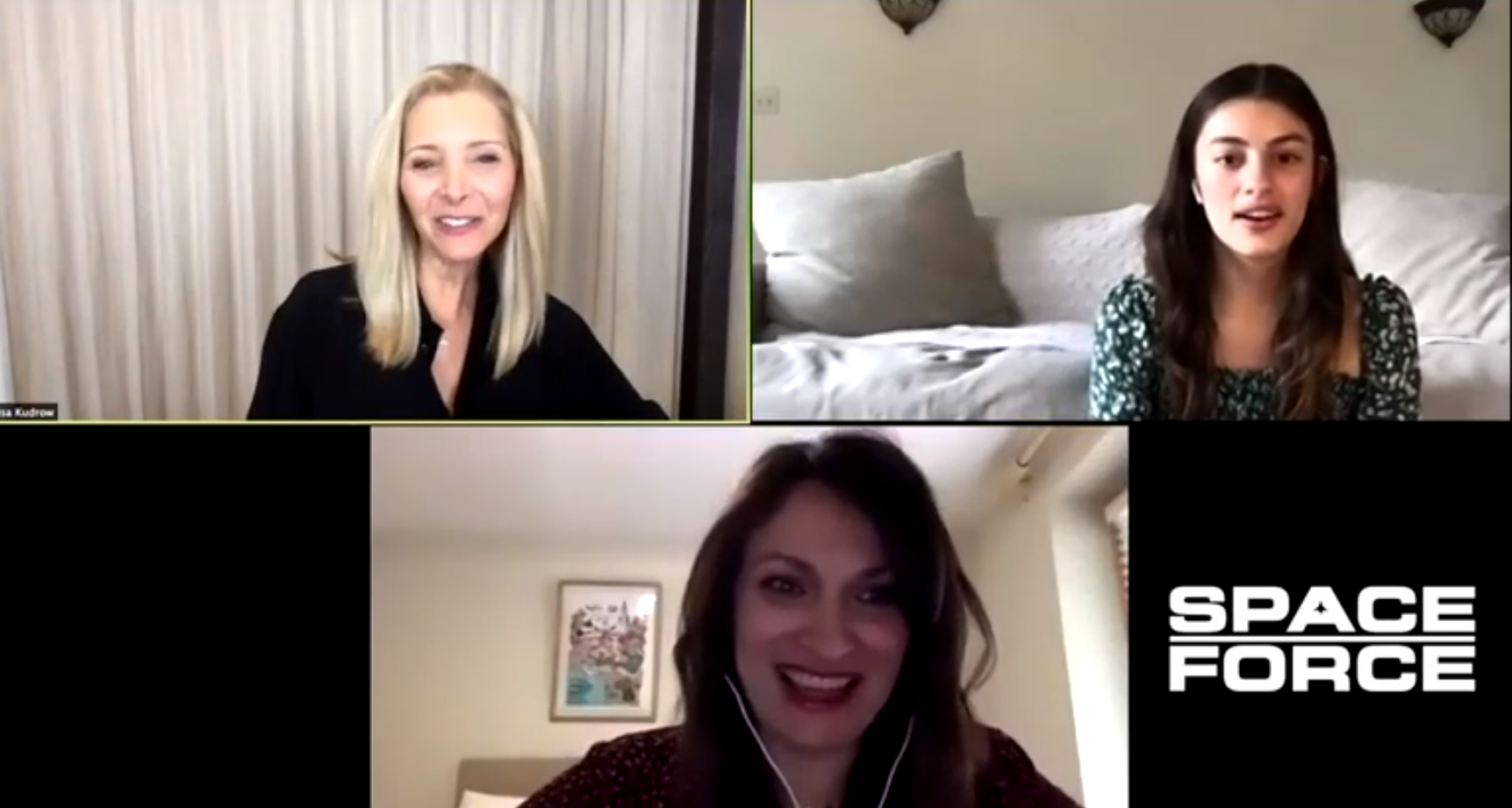 Lisa Kudrow & Diana Silvers
Sarina opened the interview by talking to the girls about Donald Trump's Space Force initiative.
The Friends actress admitted she had no idea it was even a thing, saying she was shocked by his announcement.
Kudrow said, "It never came up and I think they assumed I knew."
She went on, "I didn't know until after I finished shooting and the president was giving a state of the union."
"And he mentioned it and I went, 'oh! Oh! Oh... Good God... Okay. Wow. What an idiot.'"
While her co-star Silvers admitted she, "knew it was a thing when Netflix announced the show."
The 22-year-old said, "I haven't really been keeping up with the latest on the whole thing."
"I'm kind of preoccupied with our Space Force, but apparently it's a thing!"
Moving on, Sarina asked why their Space Force roles were right for them.
Silvers laughed, "I've always wanted to work with Steve Carell."
"I'm like the biggest Office nerd fan," Silvers revealed.
"The fact that this was even an opportunity at all to audition for this project... You know I was already excited about it."
"Whether or not I got the role, I was still gonna be watching it."
Friends
Sarina later asked Phoebe Kudrow why she and her Friends cast members felt it was the right time for a reunion.
She simply replied, "Because it's time. I mean, I think its been time for a long while!"
"And then figuring out how and what that would be took some thinking."
The actress went on to make the shocking revelation that there are Friends episodes that she has never seen.
She defended her statement by saying other members of the cast are in the same boat.
Despite this, she said she's excited to some day, sit down and watch the whole series.
John Malkovich & Ben Schwartz
Sarina also caught up with actors John Malkovich and Ben Schwartz.
Schwartz admitted during the chat that the whole cast have been enjoying Zoom happy hours together.
He said, "We all really enjoyed the company of each other when we were making the show!"
The actor went on, "I think it was Tawny who originally put it together and it has been a joy."
When asked about dealing with career road blocks, Malkovich admitted, "I don't feel like I had any."
"I live such a charmed life and was born at such a charmed moment to be born in America after the second world war."
"I don't think I had any road blocks at all, I know people who did but I didn't."
Malkovich explained that he always loved what he was doing, so he never had any road blocks for that reason.
Sarina pointed out that their job is to play make believe and Schwartz added, "It's the best."
Greg Daniels
The Space Force executive producer told Sarina that when Steve Carell approached him with the idea for Space Force, he loved it.
However, he admitted he would have gone anywhere Steve went, "I love Steve Carell."
"He was my favourite work experience doing The Office with him."
Sarina mentioned Donald Trump's Space Force and jokingly asked, "Is that part of your marketing campaign Greg?"
He laughed, "Well you know the funny thing about the flag they put out, was we had to develop all of our own graphic design 'cause obviously we shot the show last year."
"We came up with our own camouflage fatigues which we thought was very funny... That it would look like the surface of the moon."
He admitted he found it even more hilarious when he saw that Donald Trump's Space Force fatigues were jungle patterned.
Daniels said it, "was a more absurdist joke than we would have thought of."
Tawny Newsome & Jimmy O. Yang
When asked her reaction to bagging a role in Space Force, Tawny replied, "I was obviously so excited!"
She said she had done about three or four auditions and callbacks before she landed the role.
"Yeah I mean I was ecstatic, I was overjoyed!"
O. Yang went on to chat about a previous comment he made, saying he wished Steve Carell was his dad.
He explained, "Steve is like America's dad, he's so sweet and nice and attentive."
"Not saying my dad isn't like that, he's kind of a ba**-buster."
Jimmy revealed that his dad features in one of the Space Force episodes.
"He went through a whole arc on my acting career."
"At first he was like, 'I hope this is just a phase, here I'm sending you some career builder emails like go get a real job.'"
O. Yang went on, "And then when he saw me being pretty successful, he completely skipped a step!"
"Like there's a nice in-between step of like, 'hey congrats son I'm so proud of you,' to like, 'hey it's so easy! You can do it, I can do it!"
Listen to Sarina on SPIN 1038's Plan B every Saturday from 10am.
Space Force drops on Netflix this May 29th.