New to Netflix
We're entering a brand new month, which means we're getting plenty of brand new Netflix content.
The streamer released a list of everything coming next month and we're in for a treat.
Highlights include To All The Boys, Firefly Lane, Behind Her Eyes, Malcolm & Marie, Pele, News of The World and Crime Scene: The Vanishing at the Cecil Hotel.
Here's everything new to Netflix in February:
Original TV
Hache: Season 2 05/02/2021
Invisible City 05/02/2021
Capitani 11/02/2021
The Crew 15/02/2021
Behind Her Eyes 17/02/2021
Hello, Me! 17/02/2021
MeatEater: Season 9 Part 2 17/02/2021
Sisyphus COMING SOON
Tribes of Europa 19/02/2021
Vincenzo COMING SOON
Buried by the Bernards 12/02/2021
Ginny & Georgia 24/02/2021
Canine Intervention 24/02/2021
Firefly Lane 03/02/2021
Original films
Black Beach 03/02/2021
All My Friends Are Dead 03/02/2021
Space Sweepers 05/02/2021
The Yin-Yang Master: Dream Of Eternity 05/02/2021
News of the World 10/02/2021
The Misadventures of Hedi and Cokeman 10/02/2021
Layla Majnun 11/02/2021
Red Dot 11/02/2021
Squared Love 11/02/2021
To All The Boys: Always And Forever 12/02/2021
Classmates Minus 20/02/2021
Geez & Ann 25/02/2021
Crazy About Her 26/02/2021
Caught by a Wave 26/02/2021
The Girl on the Train 26/02/2021
The Last Paradiso 05/02/2021
Little Big Women 05/02/2021
Malcolm & Marie 05/02/2021
Original comedy
Tiffany Haddish Presents: They Ready: Season 2 02/02/2021 Images
Hate by Dani Rovira 12/02/2021
Brian Regan: On The Rocks 23/02/2021
Original documentaries
Strip Down, Rise Up 05/02/2021
Crime Scene: The Vanishing at the Cecil Hotel 10/02/2021
Pelé 23/02/2021
Kids & family
Kid Cosmic 02/02/2021
Mighty Express: Season 2 02/02/2021
Xico's Journey 12/02/2021
Bigfoot Family 26/02/2021
Animals on the Loose: A You vs. Wild Movie 16/02/2021
Original anime
High-Rise Invasion 25/02/2021
Thus Spoke Kishibe Rohan 18/02/2021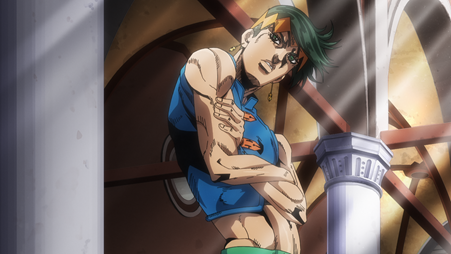 Thus Spoke Kishibe Rohan
Meanwhile, Riverdale season five is streaming on Netflix now.
But if you're a little hazy on what went down in the season four finale, click here for a recap.