Release Date
The Chilling Adventures Of Sabrina Part 2  returns to Netflix in 2019.
Everyone's favourite witch will be back for more drama with 8 new episodes on Friday 5th April.
Riverdale showrunner Roberto Aguirre-Sacasa has returned to write the script for the new series.
Making all your witches come true this holiday season. CAOS continues April 5. pic.twitter.com/NFzGRnQucK

— Chilling Adventures of Sabrina (@sabrinanetflix) December 1, 2018
Cast
All of the main cast are returning.
Kiernan Shipka will continue to play Sabrina and Ross Lynch will return as Harvey.
Plot
We don't have much plot information yet but we do know the show will be 'a bit more magical-and a lot sexier.'
Aguirre-Sacasa revealed to Entertainment Weekly that the new series 'feels a little more ambitious and rollicking than part one.'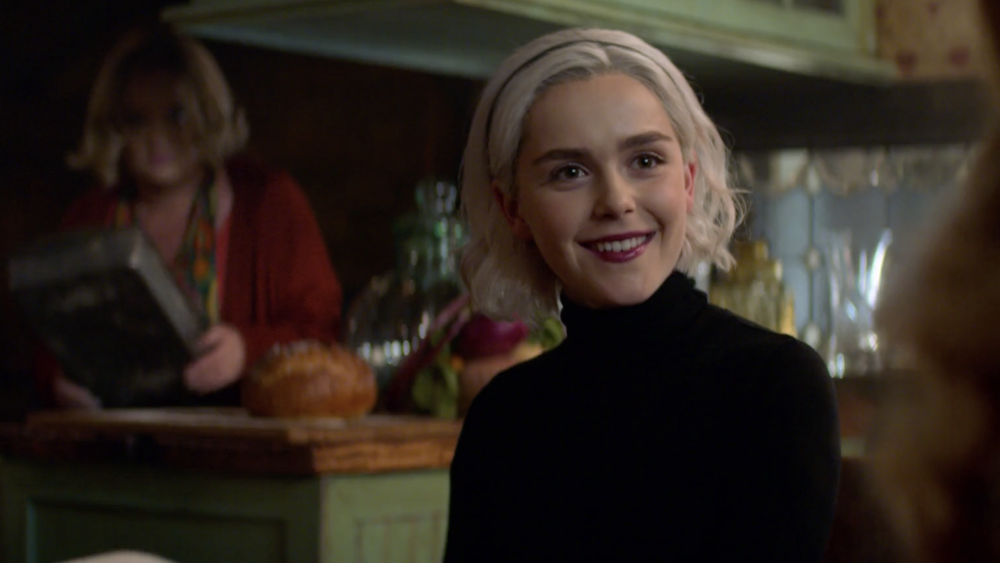 Riverdale Crossover
As most of you will know, Chilling Adventures Of Sabrina Part 2 (CAOS) is set in the same fictional world as Riverdale.
Sabrina and her friends live just one town down in Greendale.
Naturally lots of fans have called for a cross over including Sabrina herself.
Speaking to Enterainment Tonight, Shipka revealed the had the whole story line worked out.
"I think Archie should just wander over to Greendale. Like, he goes on runs. He's athletic. He can run into Greendale one day….Right?"
Adding more fuel to the fire, Shipka recently shared an Archie Comic Book cover to her Instagram stories.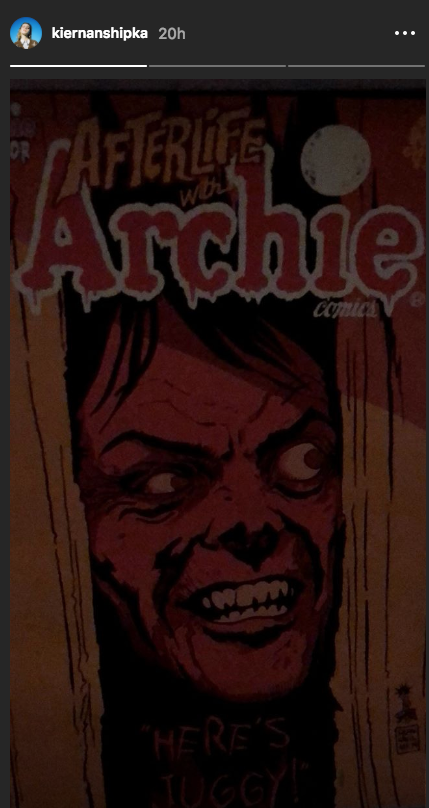 Riverdale's Archie Andrews aka KJ Apa was also talking to the press.
Speaking to comicbook.com he said:
"I really want that to happen. I mean, as far as I know now, I don't think it is going to happen. But, just because they've got the supernatural aspect to it and we don't really have that. But it would be sick."
What does Roberto Aguirre-Sacasa have to say?
CAOS creater and write Roberto Aguirre-Sacasa also works as a show runner on Riverdale.
Already fans of both shows have been treated to Riverdale Easter Eggs in the new Sabrina series.
Speaking to Enterainment Weekly about season 2 he said, "I think it's fun to see little Easter eggs, so we try to sneak them here and there. That's something that we continue to do on the show. I think the fans of both shows love it."
He also revealed exactly how his dream cross over episode would look.
"I think there'd be a great episode where the Riverdale kids hear about a haunted house in Greendale and try to break in and it's Sabrina's house. There's totally a universe where that happens."
Aguirre-Sacasa has previously discussed a Riverdale spin-off so maybe we could see all three shows collide there!
Trailer
We got a teaser trailer for the series in December.
The full trailer landed in March.
What else do I need to know?
Good news witches!
Netflix has renewed Chilling Adventures Of Sabrina Part 2 for a third and forth season.
With only six month in between the first two installments, we can probably expect season three in early 2020.
All series have 8 episodes meaning we have 24 more to look forward to.