Film festival season is in full swing giving us a good indication of the front runners for the 2020 Academy Awards.
Here are 18 movies that have come out on top this year: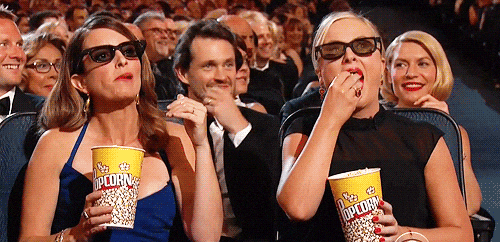 Joker
Joker took home the festival's top honour, the Golden Lion award, and was met with an eight minute standing ovation.
The psychological thriller is directed by Todd Philips who worked on The Hangover trilogy and Borat.
Starring: Joaquin Phoenix, Robert De Niro, Zazie Beetz,
Release date: 4th October
The Laundromat
The Laundromat is a Netflix movie about a woman whose dream vacation goes wrong.
It's directed by Stephen Soderbergh, the man behind Ocean's Eleven and Magic Mike.
Starring: Meryl Streep, Gary Oldman, Antonio Banderas.
Release date: 27th September (select cinemas) & 18th October (Netflix)
Marriage Story 
Marriage Story is a comedy drama about a couple going through a divorce.
The film's perspective switches between husband and wife.
Starring: Scarlett Johansson, Adam Driver, Laura Dern
Release date: 6th November (select cinemas) & 6th December (Netflix)
Jojo Rabbit
Jojo Rabbit is a black comedy written and directed by Taika Waititi.
The story follows a Hitler Youth who finds out his mother is hiding a Jewish girl in their attic.
Starring:  Taika Waititi. Rebel Wilson, Stephen Merchant, Alfie Allen, Sam Rockwell & Scarlett Johansson.
Release date: 3rd January
Dolemite Is My Name
Dolemite Is My Name is a biographical comedy about filmmaker Rudy Ray Moore and his character Dolemite.
The film is film directed by Craig Brewer and written by Scott Alexander and Larry Karaszewski.
Starring: Eddie Murphy
Release date: 4th October (select cinemas) & 25th October (Netflix)
A Beautiful Day In The Neighbourhood
Another biopic, A Beautiful Day In The Neighbourhood tells the story of beloved television icon Fred Rogers.
The movie is based on an article that appeared in Esquire called Can You Say... Hero?
Starring: Tom Hanks, Matthew Rhys, Susan Kelechi Watson
Release date: 6th December
Ford v Ferrari
Ford v Ferrari generated the loudest Oscars buzz following the 46th Telluride Film Festival.
The movies tells the story of Ford's attempts to beat Ferrari in a car race.
Starring: Matt Damon, Christian Bale, Caitriona Balfe
Release date: 15th November
Waves
Waves is being described by critics as the biggest 'sleeper hit' of this year's festival season.
The stylish movie tells the story of an upper class African American family torn apart by tragedy.
Starring: Kelvin Harrison Jr., Lucas Hedges, Taylor Russell, Alexa Demie
Release date: 1st November
Motherless Brooklyn
Ed Norton wrote, directed, produced and stars in Motherless Brooklyn.
He based the crime drama on a novel of the same name by Jonathan Lethem.
Starring: Ed Norton, Bruce Willis, Gugu Mbatha-Raw, Bobby Cannavale, Cherry Jones, Alec Baldwic, Willem Dafoe
Release date: 29th November
Ad Astra
Ad Astra is the latest in a string of 'sad Dad' astronaut movies.
According to Wikipedia, it follows an astronaut who goes into space in search of his lost father, whose experiment threatens the solar system.
Starring: Brad Pitt, Tommy Lee Jones, Ruth Negga, Liv Tyler, Donald Sutherland
Release date: 18th September
The Goldfinch
The Goldfinch is an adaptation of Donna Tartt's 2013 novel of the same name.
Ansel Elgort plays a young man whose troubled childhood leads him to the world of art forgery.
Starring: Ansel Elgort Oakes Fegley, Finn Wolfhard, Nicole Kidman
Release date: 27th September
Uncut Gems
There's still no trailer out for this upcoming Adam Sandler crime comedy-drama.
However, we know the story follows a jewelry dealer to the rich and famous who is struggling to pay his debts.
Starring: Adam Sandler, Lakeith Stanfield, Julia Fox
Release date: December 2019
Judy
Judy sees Renee Zellweger play Judy Garland in a movie about her life.
Set in 1968, the story follows Garland as she deals with money and addiction issues.
Variety's Jenelle Riley said of the screening, "In 15 years at #TIFF I have never seen a standing ovation like the one for Renee Zellweger at Judy."
Starring: Renee Zellweger,  Jessie Buckley, Finn Wittrock, Rufus Sewell, Michael Gambon
Release date: 4th October
The Two Popes
Despite what you might think, The Two Popes is a Netflix comedy-drama.
The movies sees Pope Benedict and the future Pope Francis attempt to find common ground.
Starring: Anthony Hopkins, Jonathan Pryce
Release date: 29th November (select cinemas) & 20th December (Netflix)
The Irishman
The Irishman is the ninth movie Robert De Niro and director Martin Scorsese have worked on together.
The story follows Frank 'The Irishman' Sheeran as he recounts his time as a hitman for the Bufalino crime family.
Starring: Robert De Niro, Al Pacino, Joe Pesci
Release date: 1st November (select cinemas) & 27th November (Netflix)
Hustlers
Jennifer Lopez was shocked this week to learn her role in Hustlers has generated Oscars talk.
The movie was inspired by a viral article and follows the story of a group of strippers who begin to embezzle money
Starring: Jennifer Lopez, Constance Wu,  Julia Stiles, Keke Palmer, Lili Reinhart, Lizzo, Cardi B
Release date: 13th September
Little Women
Ladybird's Greta Gerwig directs this famous coming-of-age drama.
The 2019 movie marks the eighth adaption of the 1868 novel by Louisa May Alcott.
Starring: Saoirse Ronan, Emma Watson, Timothée Chalamet, Laura Dern, Meryl Streep
Release date: 27th December
Knives Out
There's a huge cast for this Agatha Christie-inspired whodunit comedy.
The story sees a family gathering go horribly wrong when the father's death leads to unanswered questions.
Starring:  Daniel Craig, Chris Evans, Ana de Armas, Jamie Lee Curtis, Toni Collette, Don Johnson, Michael Shannon, Lakeith Stanfield, Katherine Langford, Jaeden Martell, Christopher Plummer.
Release date: 29th November
The 92nd Academy Awards are happening on Sunday 9th February 2020.