Trying to figure out the biggest wedding trends for 2019?
Find yourself scrolling through flower arrangements, cake toppers and wedding invites?
Planning your big day can be hard work and it can be pretty daunting when there are reams of information out there on every tiny aspect of your big day.
If your wedding date is fast approaching, look no further. We've compiled a list of the biggest wedding trends to keep an eye out for in 2019:
Wedding Dresses
Minimalism
We're going back to basics as the classic styles reemerge as firm favourites. You can credit the 'Meghan Markle effect' for this trend as her simple, minimalistic dress proved a massive hit for brides across the globe.
Statement Sleeves
Vogue has predicted it'll be all about the sleeves in 2019 and who better to trust than the fashion bible? From ruffles to feathers to mesh detailing, the sleeves of your gúna will be doing the talking this year.
Jumpsuits
It's 2019 and a wedding dress doesn't necessarily mean a 'dress' any more. The jumpsuits are set to remain a popular choice for brides this year
Bridesmaids Dresses
Wrap Dresses
Your bridesmaids will be delighted to hear the super-flattering wrap dress is big this year. It's simple yet classy style makes it a winner for all shapes and sizes and a dress they're sure to wear a second (and third!) time.
Coral
This tropical, summery colour is predicted to be everywhere in 2019. It's quite versatile to style and will suit even the palest of your bride squad.
Cowl Necklines
Hoop earrings and knee-high boots aren't the only 90s trends making a comeback. The cowl neckline is a big one to look out for in 2019. The subtly draped fabric is classy and polished yet it's a little distinctive if you're looking for something different for your bridesmaids.
Flowers
Romantic Colours
Think your rose golds, your pastel peaches and light pinks. The romance colour scheme has long stood the test of time and is set to reign supreme once again in 2019.
Flower Wearables
The more subtle floral headpieces and crowns are taking over aisles across the globe. From floral crowns to elegant cuff corsages and even fresh flower anklets are all proving popular and put a unique stamp on your wedding style.
Nature
Loose and natural wedding bouquets are also a top choice for brides this year. Soft foliage's like Eucalyptus, Olivewood and wild grasses paired with the small and delicate white blooms and white open roses will be a stunning addition to any bride's big day.
Cakes
Floral
Floral on a wedding cake will probably never go out of style. You can play with textures through the use of leaves of berries or stick to the classics with roses and beautiful blooms.
Gold Detailing
Gold is a symbol of luxury and elegance so it's no surprise it's emerging as a popular wedding cake trend. From the glamorous gold ribboning to the more subtle gold painted sugar leaves, this works best on a simplistic, white cake.
Letter Cakes
Now, this is a cake trend that's set to get your guests talking! You have a range of options from spelling out your new married name or simply sticking with your initials, letter cakes are a way to really stand out from the crowd.
Decorations
Earthy Decor
Lucious leaves and greenery are a good way to incorporate nature into your big day. Coupled with soft blooms and some baby's breath makes for a striking table setting.
Pets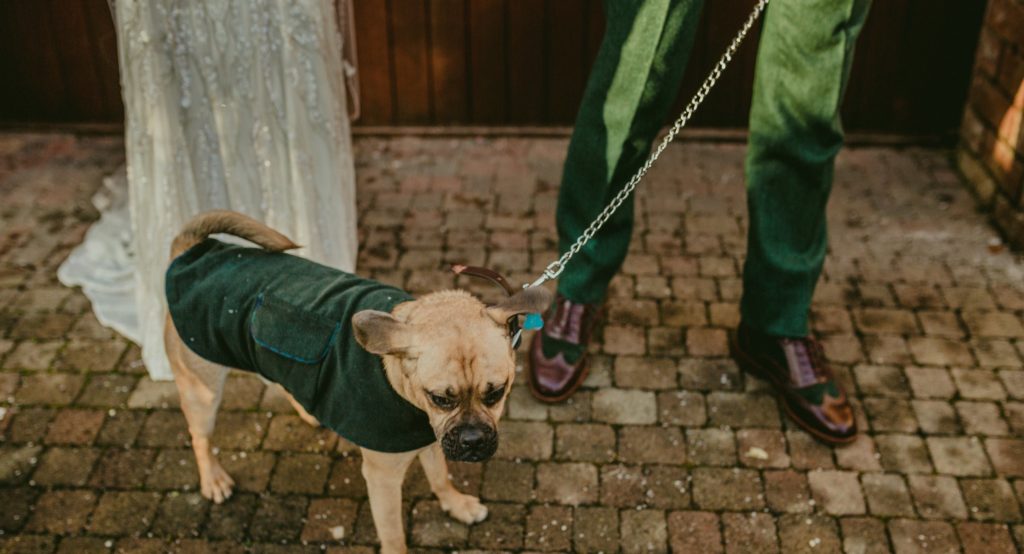 It's no wonder our furry friends are becoming a bigger part of our wedding day.
Even if they can't actually make the ceremony, you can still very much include them in proceedings. Consider a sketch of them on a bar sign or an ode to them on your guest favours.
Personalised Signs
The personalised chalkboard and LED light board signs are proving ever popular and are a great and affordable way to make your own mark on your wedding decor.
This piece was brought to you by The Bride of the Year Show which is back at the RDS, Dublin on January 26th and 27th. With over 150 of the finest wedding suppliers under one roof, make your dream wedding a reality no matter what your budget or style. 
Brides and grooms will have the opportunity to enjoy bespoke fashion shows showcasing the latest in wedding couture. New show features including the 'I Do' School, Something New, Something Blue Village will be available and audiences can indulge in afternoon tea.
 The Bride of the Year Show will open its doors at 11am on Saturday 26th January and runs until 5pm on Sunday 27th January 2019.
Tickets cost €15 and can be purchased at the door. For more information click here.