Sister Act The Musical
The iconic Sister Act musical is coming to the Bord Gáis Energy Theatre next October.
It will run for a week from September 29th until October 4th and we cannot wait.
Tickets go on sale this Friday at 9am.
 

View this post on Instagram

 
There's no doubt the show will sell out fast considering they sold out Broadway and London's West End.
It's also believed Whoopi Goldberg herself could take to the stage as Deloris Wilson.
Just last month it was announced that the actress would reprise the role for London's West End show next year.
So could this mean she'll perform in their Dublin show as well?
We'll have to wait and see what happens.
*WHOOPI'S BACK* @WhoopiGoldberg will be coming to the @EventimApollo London next summer to play Deloris in @sisteractsocial alongside JENNIFER SAUNDERS as Mother Superior! It's gonna be (absolutely) FABULOUS, BABY! *ONLY 39 PERFORMANCES* https://t.co/zMCyVwhptx @ferrifrump pic.twitter.com/YAQ0YKix6Z

— SISTER ACT THE MUSICAL (@sisteractsocial) October 24, 2019
The musical sees Deloris' life take a surprising turn when she witnesses a murder.
'Under protective custody she is hidden in the one place she won't be found – a convent!'
'Disguised as a nun and under the suspicious watch of Mother Superior, Deloris helps her fellow sisters find their voices as she unexpectedly rediscovers her own.'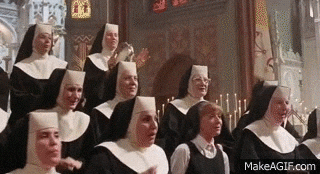 Tickets go on sale Friday 22nd November at 9am from Ticketmaster.