Francesca Farago and Harry Jowsey call it quits
Too Hot To Handle's Francesca Farago and Harry Jowsey have called it quits.
She announced the news in a very emotional YouTube video yesterday, revealing he's the one who ended things.
 

View this post on Instagram

 
The reality star told her followers that he broke up with her, "because he couldn't do long-distance anymore."
She admitted, "I obviously was heartbroken. I did everything I could."
Francesca lives in Vancouver while Harry, originally from Australia, is currently living in L.A.
 

View this post on Instagram

 
The 26-year-old went to L.A. to see him, and that's when he ended things.
She said she wanted to announce their split after this but he asked if they could wait a little longer.
The reason being, he didn't want to validate certain, "rumours and accusations," going around about him at the time.
 

View this post on Instagram

 
Francesca admitted she didn't even want to tell her friends because she was convinced they, "were going to figure it out."
She said, "We would argue every now and then, but it was never for me relationship ending."
"And I think for him, small, little things ended up turning into relationship ending arguments."
Rumours that turned out to be true
Francesca later admitted, "There was a lot of rumors that came up that turned out to be true."
She said, "I was getting sent a lot of screenshots and messages."
"I didn't want to believe it because how could you have a wedding ring folder with someone, and how could you propose to someone, but you're also saying I can't be with you because of the distance. It makes me feel like I was being played."
 

View this post on Instagram

 
"For me," Francesca said, "I would have stuck by this person no matter what."
"Through all the fights and everything I would have never given up, but it wasn't reciprocated."
"He was moving on, and he is moving on and I need to do the same."
The YouTube description
In the video's YouTube description, she apologised for the inappropriate timing.
She said, 'With everything going on right now I do not wish to come across as insensitive, by airing out my personal issues.'
However, she said she feels the need, 'to be honest.'
 

View this post on Instagram

 
Later in the description, Francesca told her followers, 'never let anyone treat you poorly, in any situation.'
'You are all amazing and you all deserve the WORLD.'
'Always stand by people you love, but not if it comes at the expense of your own happiness.'
 

View this post on Instagram

 
She began to finish up, 'I really need to start moving forward with my life.'
'If it comes down to me having to release more of the truth I will when the time is right.'
Watch the full announcement video below:
What Harry said
Taking to Instagram Stories, Harry admitted, "This is a sh*t situation and only myself and Francesca know the full extent of what's happened."
"I just wanna say thank you to everyone who isn't jumping to conclusions or I don't know, anyway, thank you to everyone for understanding there's always two sides to every story."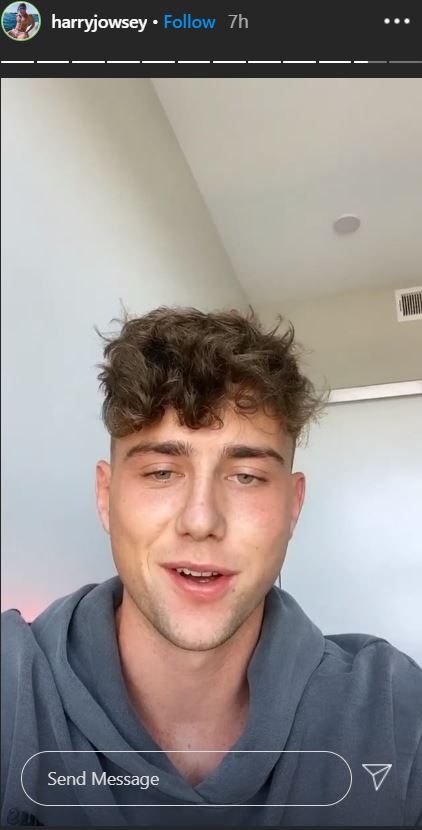 The reality star said, "Francesca knows I'm always gonna love her, she's always got my heart in a special place with me..."
Harry said he'll chat about it in more detail later today.
No further comment has been made.