Scott Disick, Megan Barton Hanson & Eyal Booker
Over the weekend, Megan Barton Hanson shared a screenshot of an Instagram DM she allegedly received from Scott Disick.
Scott told her he was, 'extremely disturbed,' by how, 'disrespectful,' she was towards Eyal Booker on Love Island.
He asked whether she would be willing to issue him a written apology.
 

View this post on Instagram

 
Megan and Eyal had a brief fling in the Love Island villa during the 2018 series of the show.
However, she called it off, admitting she was only, "physically," and, "sexually attracted to him."
She told him she couldn't have fun with him, adding that he's, "not exactly Jim Carrey."
Scott's message
Now, more than two years on, Scott Disick has apparently watched the show.
In Megan's screenshot of their messages, he began by saying, 'Hey I recently saw your program love island.'
'I had a few questions for you about it. Let me know when your around to speak about it.'
 

View this post on Instagram

 
Megan replied, 'Hey you... what do you wanna know? x'
Scott responded, 'I was recently introduced to a beautiful man, named Eyal.'
'when i went to see what he's done on tv, I was astonished by your behavior.'
 

View this post on Instagram

 
He continued, 'to find you mugging him off, and taking full advantage of his unbelievably beautiful sense of humor, and vulnerability.'
'i'm extremely disturbed that anybody could be so disrespectful to somebody for no good reason.'
'i would like to know if you'd be willing to write him an apology.'
 

View this post on Instagram

 
He concluded, 'the fact that you told him he wasn't funny—when in fact, you are not jim Carey is absurd.'
Megan's reaction
The former Islander was clearly shocked by Scott's messages.
Megan captioned the screenshot, 'Its not often I'm left speechless but... sorry!?'
'What have I just read? Genuinely a little concerned about Scott tho.'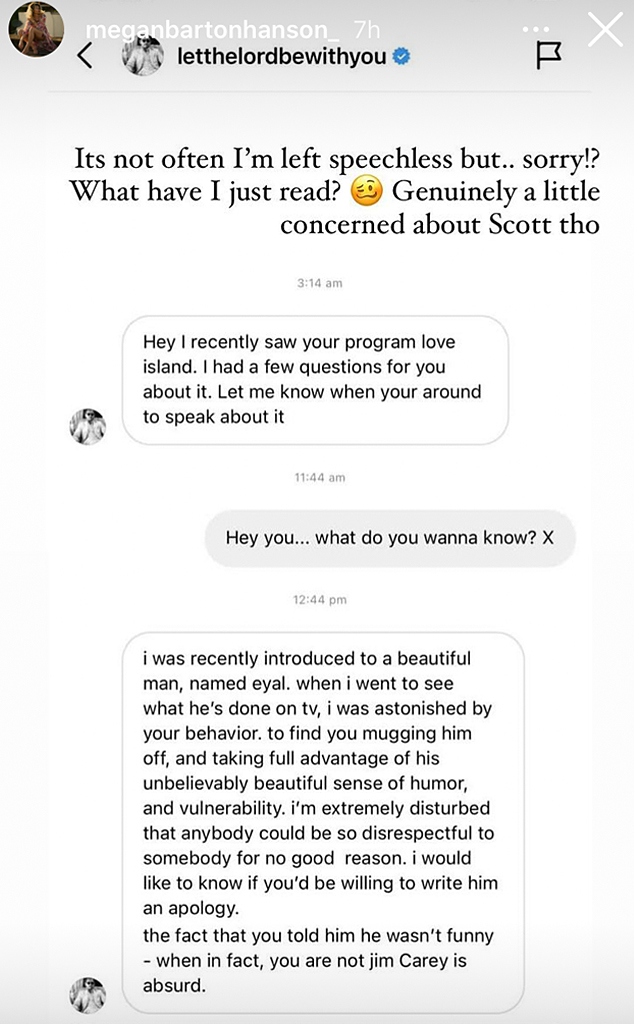 She even went on to share some of her favourite memes about the situation.
One Twitter user shared two images of Megan on Love Island - she looks excited in the first, and disappointed in the second.
They wrote, 'When you thought you were gonna be Mason's step mom, but really Scott wanted a written apology.'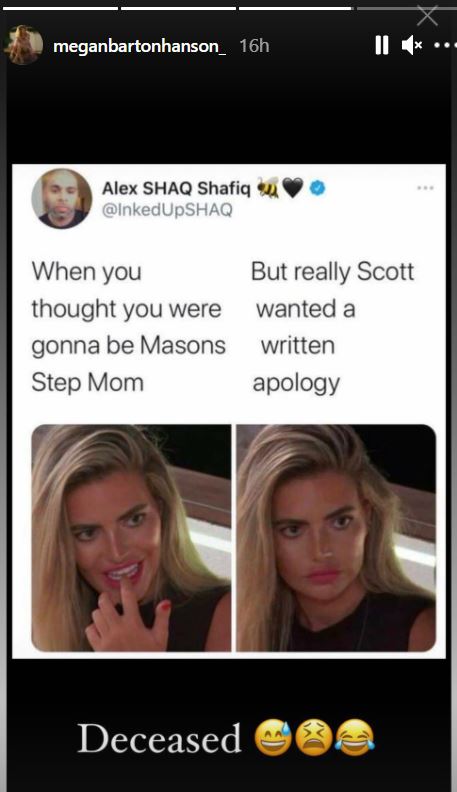 Eyal and Scott
It turns out Scott is currently dating Amelia Hamlin, who's Delilah Hamlin's sister.
And Delilah is in a long term relationship with Eyal.
We're guessing that's how Scott and Eyal were introduced to one another.
 

View this post on Instagram

 
Eyal hasn't commented.