Paul Mescal reveals the whereabouts of his character's chain
Normal People star Paul Mescal has revealed he gave his character Connell's chain to his co-star Daisy Edgar-Jones as a gift.
He made the revelation while talking to Variety about the famous piece of jewelry this week.
 

View this post on Instagram

 
Paul revealed he kept the chain on his neck throughout the entire filming process.
He said, "I wore it home and not for any other reason other than it was more convenient to just wear it rather than take it off."
Fans of the show are obsessed with this chain.
So much so that there's an Instagram account dedicated to it with over 55k followers.
The bio for the page simply reads, 'We stan Connell's chain'

Instagram @connellschain 
Paul has seen the page and he said he thinks it's, "amazing."
He admitted, "It was probably the last thing I was expecting to garner a response was Connell's chain..."
"It's so fun, I think it's just hilarious."
Where's the chain now?
But the question it seems everyone wants an answer to is; where is the chain now?
Well it turns out he gave it to his co-star Daisy Edgar-Jones as a gift on their final day of filming.
He said, "I gave it to her as a wrap gift with photographs at the end of filming."
However, Paul revealed the chain actually went missing after the fact, "I'm not going to blame her for losing it!"
"We then came back to shoot the poster for the show and I had to wear it and it got lost in all the costumes and stuff..."
"But [it was found eventually] and I think Daisy has it now. You can call off the search party!"
Daisy has since taken to Instagram Stories to, 'report Connell's chain is safe and sound along with Marianne's ring.'
She joked, 'I light this candle by it for an hour each day.'
'It smells like Sandlewood and GAA shorts.'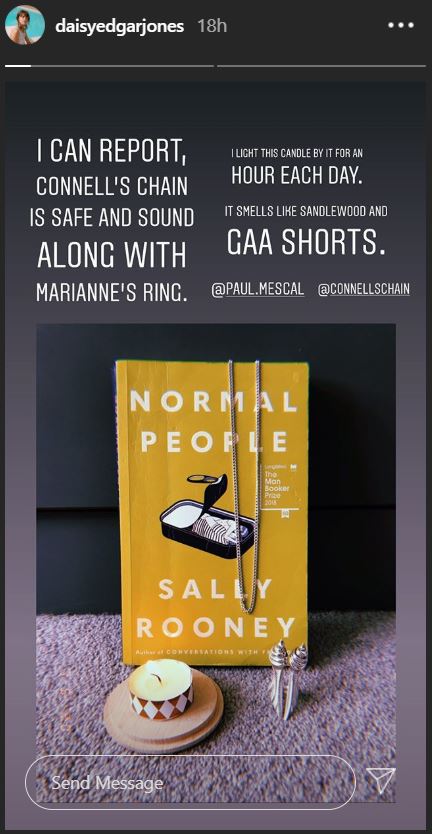 Instagram Stories @daisyedgarjones 
Meanwhile, it turns out Daisy is dating a Game of Thrones actor.
Read more about that here.
Cover photo via BBC.