Miley Cyrus has shared a photo showing the aftermath of the California wildfires on her Malibu home.
Taking to Instagram Stories she shared a before and after picture of what's left of her property with Liam Hemsworth.
The devastating photo shows a 'Love' sign destroyed on the ground.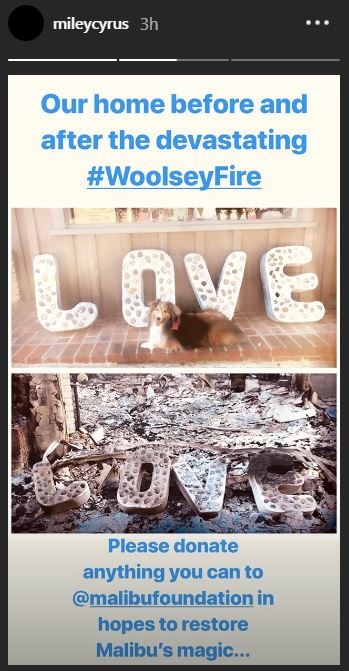 According to The Daily Mail, Miley and Liam have donated $500,000 to 'The Malibu Foundation' through Cyrus' charity 'The Happy Hippie Foundation'.
A representative for the singer told The Daily Mail "Miley and Liam lost their home but are very grateful to be safe along with their animals! Their community and state are very special to them and they want to give back to the place that has created so many beautiful memories for themselves and others."
Hemsworth also took to Instagram writing "it's been a heartbreaking few days. This is what's left of my house. Love."
Another celebrity who has been affected by the fires is Gerard Butler.
You can see his video of the remains of his home here.