Danny Williams' latest TikTok goes wrong
Love Island 2019 contestant Danny Williams took a bad fall recently.
It happened while he was donning a pair of high heels in a TikTok video with his co-stars Chris Taylor and Jordan Hames.
In the clip, the boys strut their stuff towards the camera in a pair of high heels.
However, it all goes terribly wrong for Danny, who loses his balance and hits the floor.
Chris captioned the video, 'HATS OFF GIRLS ✊...this is A LOT harder than we thought. Ask @itsdannywilliams left ankle'
The caption continued, 'Any one need x3 pairs of size 11 heels?'
'Worn once, barely damaged. Comes with three toes and half of Danny's ankle. DM me cos I never want to see them again. Getting PTSD'
'Actually starting to wonder if these boys will ever say no to my ridiculous suggestions. Mad respect though'
Danny commented, 'First tik tok with you lot and it cost me my ankle ffs is this what's its gonna be like living with yous'
While Maura Higgins wrote, 'Absolutely BRILLIANT girlies'
And Michael Griffiths said, 'that was the funniest thing to see this morning'
The injury
Chris shared a video on Instagram of Danny asleep on the couch with the caption, 'Sleeping off the broken ankle.'
Danny shared the clip to his story, 'The morphine must've knocked me clean out, don't remember falling asleep.'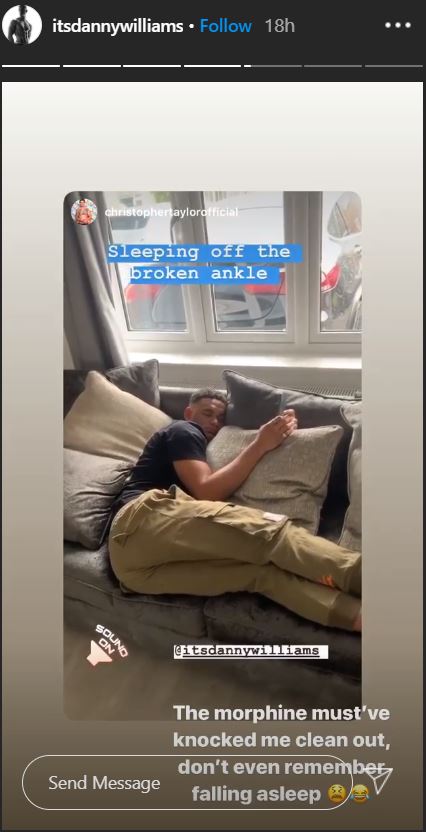 Chris also shared the link to the TikTok video on his Instagram Stories alongside the caption, 'Anyone know a decent physio for Danny?'
Danny re-shared Chris' story and captioned it, 'Genuinely interested to know if there's any decent physiotherapists around?'
'think I'm out for the season,' he added.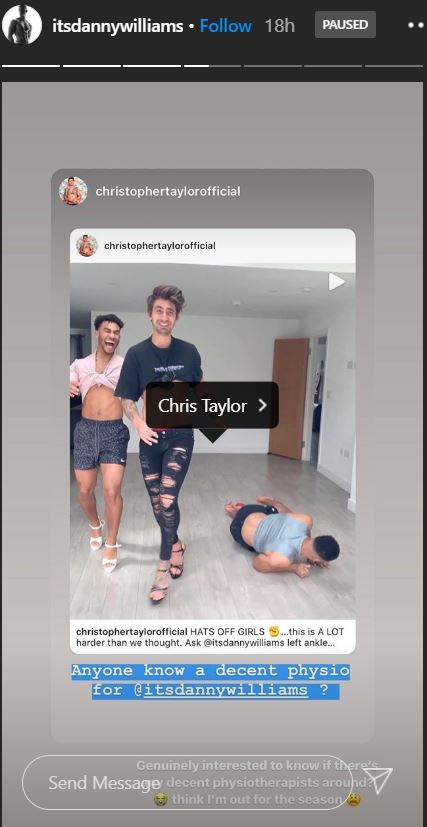 Danny later shared a video on Instagram Stories, revealing he actually didn't break his ankle, despite Chris' caption.
Addressing his followers, he said, "I did have a pretty nasty fall but I promise I'm all good, I'm healthy."
"No broken ankles, no broken bones, just a bit of fun."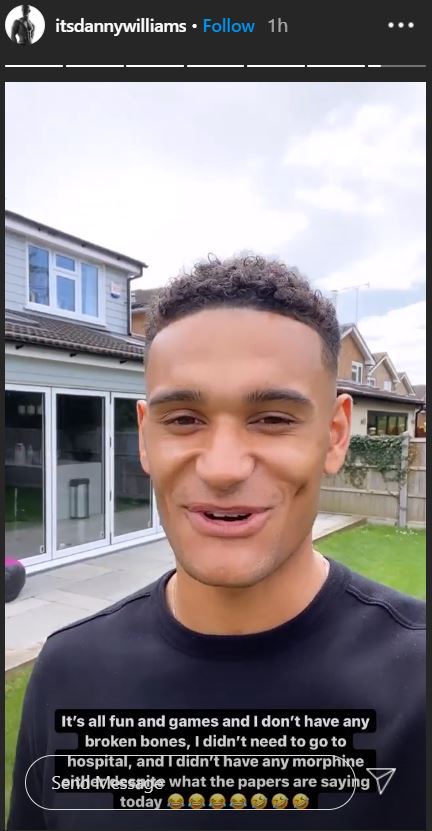 Meanwhile, winter Love Island winner Finley Tapp has revealed he's had a few, 'tiffs,' with producers in the villa.
Read more here.