Adam Collard
It appears 2018 Love Island contestant Adam Collard has tested positive for coronavirus.
The Islander shared a post on Instagram Stories saying he, 'may,' have contracted the disease.
He followed this up with a statement confirming he has tested positive.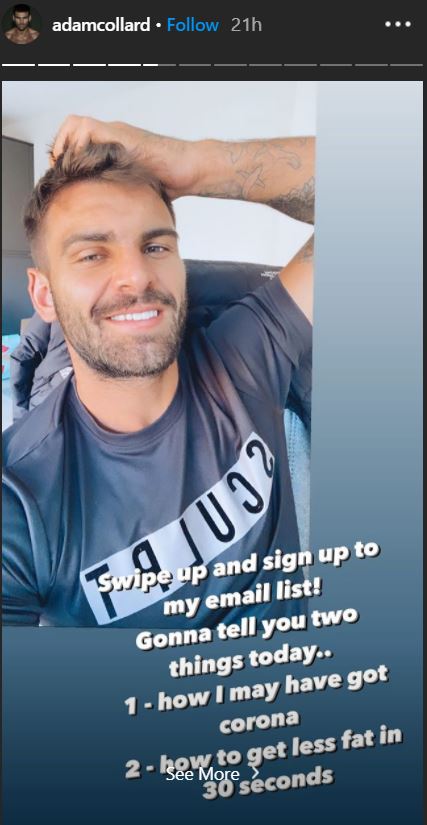 Taking to Instagram Stories, Adam wrote, 'A hell of a lot of people DM'ing me asking what this is like and where it's from etc.'
'First point, my best mate and me shared a bed/flight for 4 days together in Greece and he's Negative and I'm Positive.'
'So it could be from anywhere.'
The reality star, who works as a personal trainer at Skulpt Fitness, added, 'Done 50+ tests in gym and all negative.'
'Secondly, it obviously can be caught by anyone since I'd like to think I'm fitter and healthier than the adverage Joe.'
'No exceptions,' Adam added.
How bad is it?
He went on to answer the one question everyone has been asking him, 'How bad is it?'
Adam wrote, 'For me, it's actually ok, manageable.'
'Best way to describe it is like a bad hangover with a mega dry throat.'
He continued, 'Annoying more than anything and it comes in waves.'
'Wanted to do work and a bit of easy training yesterday but today feeling a bit fuzzy in the old head.
'Hope that answers a few,' he concluded.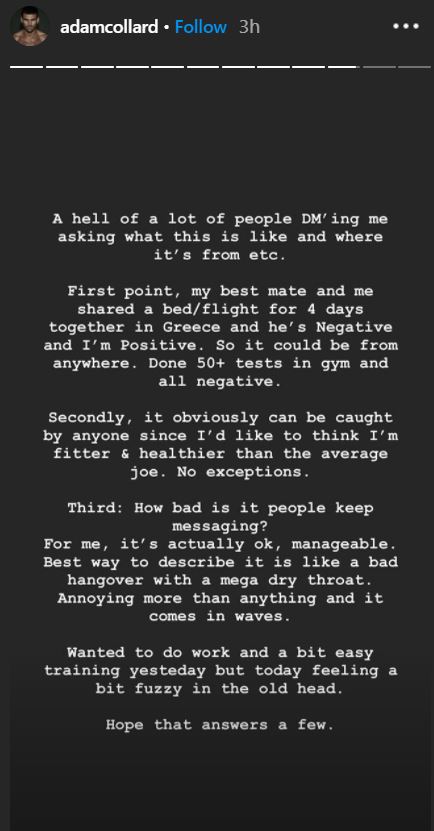 We're wishing Adam a speedy recovery.