Happy Birthday Justin Bieber!
Justin Bieber turned 26 on Sunday and he celebrated in style on Saturday night.
Here's a look inside the singer's LA birthday party.
 

View this post on Instagram

 
Justin started the night with his wife Hailey, according to E! News.
They ate at an Italian restaurant named Pecorino in Los Angeles on Saturday evening.
After dinner, the pair headed off to Justin's birthday party at a venue called Delilah.
 

View this post on Instagram

 
According to E!, the venue was packed with 40 to 50 of Justin's close family and friends.
DJ Tay James performed at the party and of course, Justin took over at one point in the night.
A sources tells E! that he serenaded Hailey with his new song Intentions.
 

View this post on Instagram

 
Justin shared a picture of the moment on Instagram.
He's seen clutching onto the microphone as he passionately kisses his wife.
'Your my birthday gift bubba'
 

View this post on Instagram

 
Justin & Hailey
A source tells E! that Justin and Hailey, 'were inseparable the entire night.'
'He always had his arm around her and they were constantly dancing to the music.'
'They both had several drinks throughout the night and seemed to be enjoying themselves.'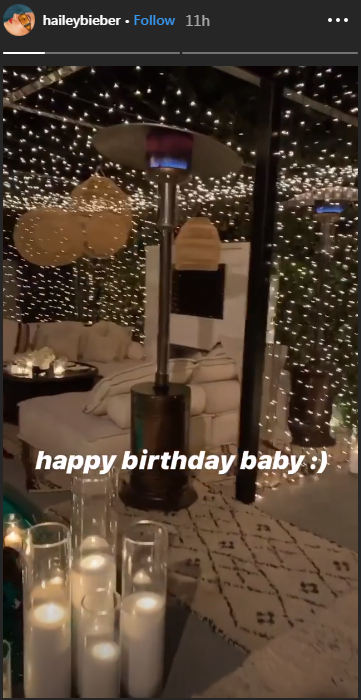 Instagram Stories @haileybieber 
The source reveals, 'No one ever sat down; it was constant dancing and chatting with friends.'
Hailey took to Instagram with a series of photos with Justin, 'happy birthday best friend.'
'thank you for putting a smile on my face every single day.. I love you'
 

View this post on Instagram

 
Meanwhile, Justin's manager Scooter shared photos from the night on Instagram.
He captioned a series of pictures with Justin, 'I ride with this man!'
The manager adds, '@justinbieber happy bday!'
 

View this post on Instagram

 
Meanwhile, Cara Delevingne has responded after Justin ranked her his least favourite of Hailey's friends.
Read more here.