Frankie Grande & Hale Leon engaged
It looks like Frankie Grande is following in his sister Ariana's footsteps.
He announced on Instagram today that he and his partner of two years, Hale Leon, are engaged to be married.
 

View this post on Instagram

 
They shared the news in a cover shoot for People Magazine.
It turns out Frankie popped the question in L.A. on Tuesday night with an, 'elaborate VR proposal.'
They were surrounded by close family and friends when it happened and it sounds super romantic.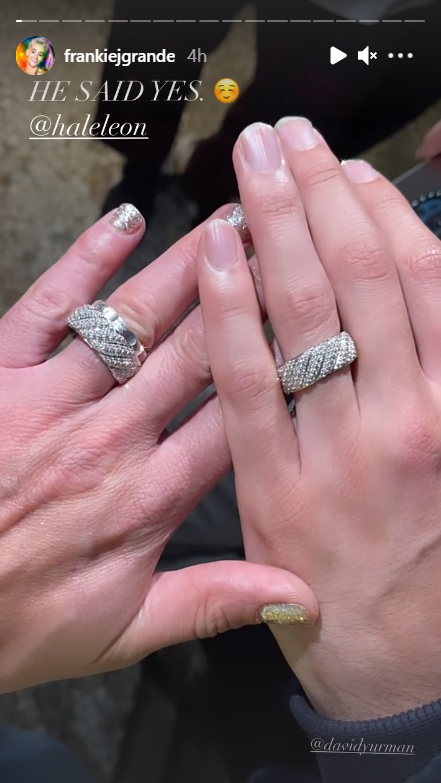 Frankie convinced Hale they were just meeting up with friends to celebrate his four-years of sobriety.
They went to Dreamscape, a VR adventure centre which was the destination for one of their first dates.
Frankie worked with the group to create a custom built ending to their VR experience.
 

View this post on Instagram

 
'... a perfect, beautiful moment'
There were virtual fireworks alongside a message that read, 'Will you marry me?'
Frankie told People, 'It was such a perfect, beautiful moment.'
'Hale was completely surprised and we both started crying tears of joy.'
 

View this post on Instagram

 
'I have been working on proposing to him in virtual reality for over a year and it was ABSOLUTELY breathtaking for us both.'
He added, 'I can't wait for everyone to see the video! Omg! We are so happy!'
Frankie also announced the news on Instagram with his 2.1 million followers.
 

View this post on Instagram

 
'He said YES! WE'RE ENGAGED! I am so happy my best friend said he wanted to spend the rest of his life with me!' He wrote.
'Playing games and making me laugh forever! Speaking of games… I proposed IN VIRTUAL REALITY! HE FREAKED OUT!'
'What a way to celebrate #pride,' Frankie concluded.
 

View this post on Instagram

 
Ariana Grande reacts
Frankie's superstar sister Ariana Grande commented, 'the most beautiful. love u both so so so much.'
She recently tied the knot with her partner of over a year Dalton Gomez.
He popped the question in December, and they tied the knot last month.
 

View this post on Instagram

 
Read more about Ariana's wedding day here.
Massive congrats to Frankie and Hale!