Ariana Grande's natural curls
Ariana Grande has taken to Instagram to show off her natural curly hair and we absolutely love it.
The pop star has ditched her iconic high ponytail in self isolation for a more natural look.
 

View this post on Instagram

 
Ariana's fans have been reacting to her adorable ringlets on social media and it's safe to say they love it too.
One fan tweeted, 'can you keep your hair like this please @ArianaGrande'
While another fan said, 'her natural hair is gorgeous'
her  @ArianaGrande pic.twitter.com/PaFy0ZW4bZ

— samira (@angellcried) April 8, 2020
ce @ArianaGrande pic.twitter.com/270GvGuJwl

— (@needysharn) April 8, 2020
@ArianaGrande I homs

— (@babaycocy) April 8, 2020
I me @ArianaGrande pic.twitter.com/bfm2AXoKjT

— (@locusamoenusxJB) April 8, 2020
@ArianaGrande re !

— Ariana Grande (@ariananewsxox) April 8, 2020
y @ArianaGrande I'lgain

— (@agbIazed) April 8, 2020
Ariana's celebrity pals have also been showing her hair some love online.
Katy Perry commented on her Instagram post, 'Keep this look after quarantimes pls'
While American actress Dove Cameron wrote, 'hair !! thriving !'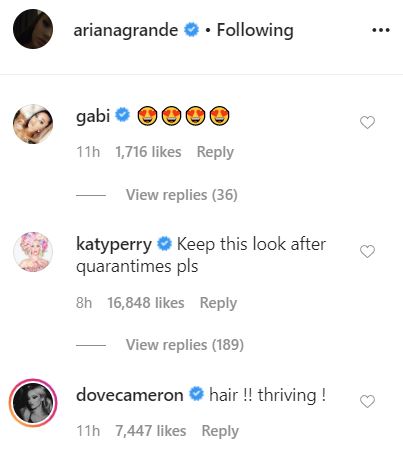 Instagram @arianagrande 
Ariana's mother Joan replied to a separate post her daughter shared on Twitter last week.
Joan wrote, 'your natural hair/curls is a world of its own...'
'a magnificent beauty you are inside and out/ made up or natural ... I love you...'
your

— Joan Grande (@joangrande) March 30, 2020
And we're echoing all the above compliments!