Khloe And Malika React
Khloe and Malika have taken to Instagram following the news that Tristan cheated with Jordyn Woods.
The best friends commented under a video shared by Hollywood Unlocked.
In the video, CEO of the Hollywood Unlocked Jason Lee confirms the cheating story.
'Apparently there's a lot of speculation. Everybody's going back and forth saying 'Why would Jordyn do that? That's not true. That's not true.''
'It is true. You know why? 'Cause one of my writers was there... That happened. That's a fact.'
Khloe and Malika then left comments underneath the post.
Khloe shared an ambiguous 'speaking head' emoji while Malika wrote 'STRONG FACTS'.
Malika's message could be interpreted as a response to Tristan's tweeted and deleted 'FAKE NEWS' comment.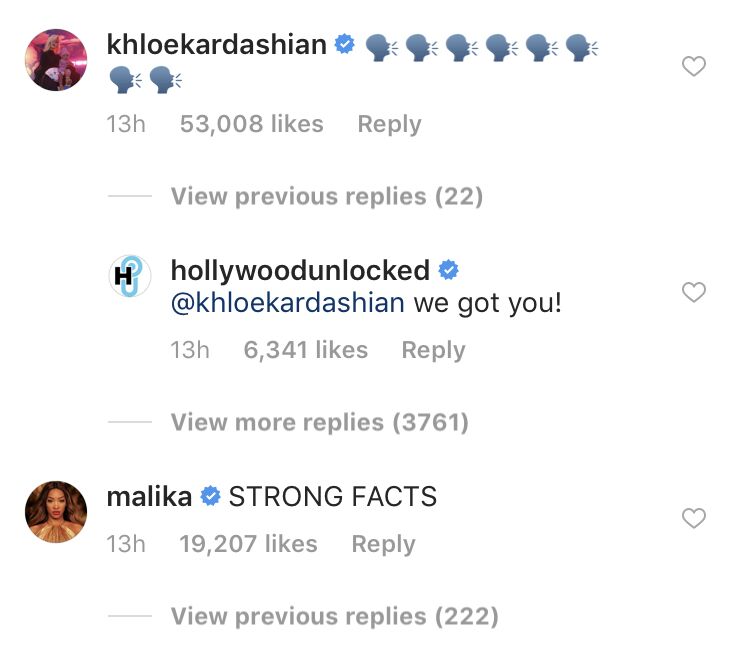 Khloe and Malika were not the only two celebs to engage with the post.
Fashion designer Roxy Earle wrote, 'Malika, I'm enraged for her.'
Larsa Pippen posted 'Amen!!!' to which Perez Hilton responded, 'These comments are lit!!'
Hollywood Unlocked called out TMZ for stealing their story
CEO of Hollywood Unlocked Jason Lee has since shared a second video.
In the post he calls out TMZ for stealing his 'exclusive.'
'I've let you mother f****ers steal from me in the past but it stops today.'
'I'm the one who reached out to Khloe Kardashian to tell her that her baby daddy was cheating with Jordyn.'
'TMZ you're this big old monstrous company yet you're putting out my exclusive, Hollywood Unlocked's exclusive as if it was yours'
 

View this post on Instagram

 
'Everytime you steal TMZ, I'm going to let you know.'
'Ask Khloe who told her. It was me'
E! News are reporting that Khloe is in complete 'disbelief' over the news.
Read more on The Kardashian's reactions here.