Jack Fincham isn't happy with Dani's new romance
Love Island 2018 winners Jack Fincham and Dani Dyer split up earlier this month.
Pictures emerged this week of Dani moving on with her ex boyfriend Sammy Kimmence.
A spokesperson opened up to The Sun on behalf of the star.
In photos released earlier this week, Dani can be seen passionately kissing her ex boyfriend.
This comes just 20 days after her split from Jack Fincham.
A spokesperson for Fincham told the publication, 'Jack was of course very upset.'
 

View this post on Instagram

 
However, it seems Jack isn't letting it get the better of him.
The source continues, 'He is keeping his head high and focusing on work at the moment.'
'Anyone would be when they see an ex with somebody else.'
The star has since deleted all evidence of a relationship with Dani from Instagram.
 

View this post on Instagram

 
Dani's new man
In photographs emerged this week, Dani can be seen cosying up to her ex Sammy Kimmence on the streets of London.
Onlookers told the publication, 'Dani and Sammy were drinking and having a great time.'
The source says they, 'made no secret of being back together.'
The pair dated for a year before Dani entered the villa last Summer.
'Dani couldn't keep her hands off him and the feeling was clearly totally mutual.'
'They kissed for ages before heading off as a group...'
However, it seems Sammy was spotted holding, 'a small sachet of a white or grey powder.'
'It was hard to say what was in the bag but it's not a good look.'
Jack's subtle dig
He may be keeping his head high at the moment but it didn't stop him from making a subtle dig at his ex on Instagram.
Fincham shared a picture of himself holding a bag in his right hand.
He captioned the post, 'Bag in my hand again... it's helpful.'
Many believe this was a reference to the sachet spotted in Sammy's hands.
 

View this post on Instagram

 
According to the publication, Jack said that the picture had nothing to do with Dani's ex.
'It's nothing to do with that at all it was about a comment someone made ages ago saying why do I carry it and I said because it's helpful.'
 

View this post on Instagram

 
However, his Love Island co-stars and friends seem to think it's a dig.
Charlie Frederick commented, 'Hahahahahaha shots fired!!!!!!'
While Sam Bird wrote, 'Nothing to see here.'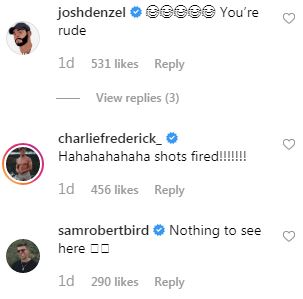 Just last week, before the pictures emerged, Fincham admitted he still fancies Dani.
Read more on that here.