Gwyneth Paltrow's daughter reacts to her nude photo
Gwyneth Paltrow's daughter was mortified when she saw her mother posing naked on Instagram.
The Iron Man actress shared the picture to celebrate her 48th birthday.
 

View this post on Instagram

 
Gwyneth captioned it, 'In nothing but my birthday suit today...'
'thank you all so much for the birthday wishes and thank you to @goop 's insanely amazing brand new body butter for making me think I can still get my kit off.'
The actress' daughter Apple simply replied, 'MOM'
However, it didn't take long before she got over the initial shock and complimented her mother in the picture.
She added, 'You are killing it tho'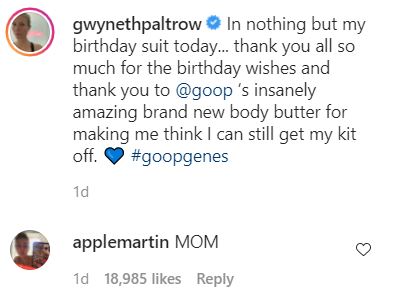 Apple wasn't the only one to compliment the stunning Avengers star.
Courteney Cox replied, 'Happy Birthday! What a beautiful girl you are and inspiring in so many ways. ♥️'
While Katy Perry said, 'HBD GP! Love this low profile way to celebrate ♥️♥️♥️'
Happy belated birthday Gwyneth!