Christine Quinn is pregnant
Selling Sunset's Christine Quinn, and her husband Christian Richard, are gearing up for parenthood.
The real estate agent confirmed the news in an interview with People Magazine.
 

View this post on Instagram

 
She told them, 'We happily can share the news that we are going to be parents!'
'I'm a firm believer in manifesting my dreams and 'til this day, have always done so.'
'This beautiful pregnancy was manifested,' the reality star continued.
 

View this post on Instagram

 
'We knew that we wanted to create a family in 2021 and I envisioned myself pregnant as I did my daily meditations.'
Christine added, 'We are so grateful to be expecting our first child.'
'I'm so ready for what this next chapter holds and cannot wait to be a mom!'
 

View this post on Instagram

 
Pregnancy cravings
The Netflix star also shared her pregnancy cravings: 'Fresh fruit, pizza with ranch (but not just any pizza — it must be Pizza Hut pizza!), and tons of Dr. Pepper.'
She added that her child is a, 'night owl, like me, and moves mainly around at night.'
 

View this post on Instagram

 
Christine's representative told E! News that she only told one Selling Sunset co-star the good news - Davina Potratz.
Her rep said, 'Outside of their close families, Christine had only shared the news with Davina.'
'Christine feels great and is so grateful to be expecting her first child,' her rep added.
 

View this post on Instagram

 
Meanwhile, a source told Us Weekly, 'Christine is so excited to be a mother and her friends are so excited for her.'
And TMZ's sources say she's, 'well past her first trimester.'
While Christine has yet to announce the news on social media, she did share a screenshot of People's article.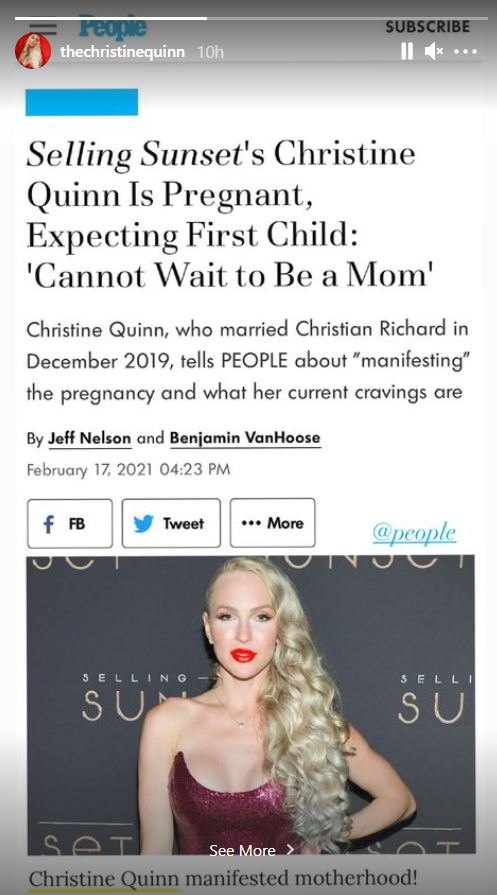 Christine & Christian
We watched Christine's relationship with Christian play out on Selling Sunset last year.
They held a gothic Winter Wonderland themed wedding in L.A. in December 2019, and the whole thing was documented for the show.
 

View this post on Instagram

 
She told People, 'We wanted to get married in December to start off the New Year [as husband and wife].'
'And a winter wonderland theme with a wicked twist is memorable forever.'
'We're so similar in all the ways that matter,' Christine said.
 

View this post on Instagram

 
'We are both creative, driven, entrepreneurial and have always lived by our own rules.'
And kids has always been on the card for the happy couple.
She previously told Metro, 'I absolutely love kids, I want two, I would love two boys.'
 

View this post on Instagram

 
Christine admitted, 'I can't even imagine like trying to tame a little Christine.'
'I always wanted two little boys just because I'm actually like quite a tomboy myself.'
'I grew up playing sports, I love cars and I fly airplanes,' she continued, 'I love all the boys stuff, I always have.'
 

View this post on Instagram

 
Massive congrats to Christine and Christian.